'One Night Only' is one not to Forget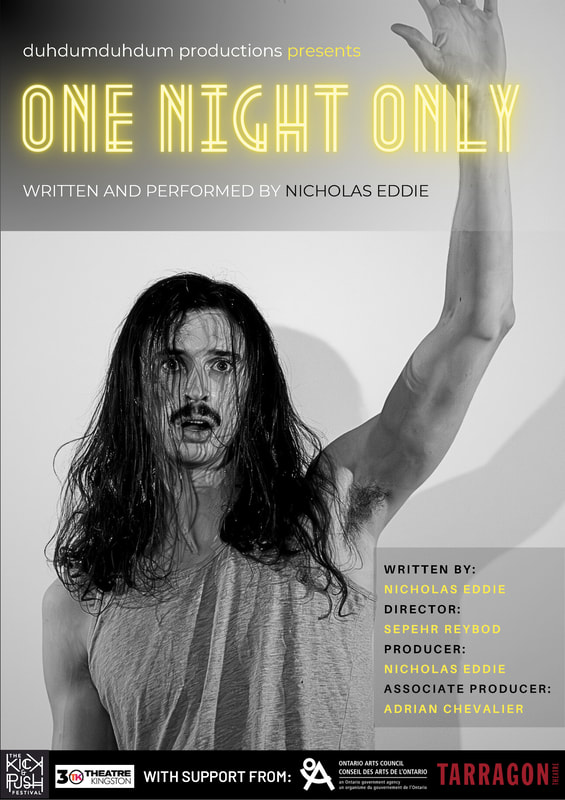 An experience I don't think I will ever forget. One Night Only is a one man show written, produced, and performed by Nicholas Eddie, directed by Sepehr Reybod, and assistant producer is Adrian Chevalier. An audience follows Eddie throughout the night as he is faced with a challenge which can only be completed in the following morning. 
This review has mentions of suicide.
This show felt like an experience rather than watching a performance. I felt I was on a rollercoaster with Eddie, like a fever dream I didn't want to wake up from. The show begins with Eddie speaking to the audience about the content warnings which seems like an appropriate thing to do at the time. Through these content warnings, Eddie seems to spoil the show. I found this interesting at first since it's not common that an audience is told what seems to be major plot points at the beginning of a show. Nevertheless, as the performance went on I loved how this helped create tension, so much so, where I felt extremely nervous towards the end.
After these content warnings, the performance "starts" and an audience follows Eddie throughout the night. He contemplates and discusses complex topics which ultimately serve as commentary on life and the modern world we live in today. He touches on society and its addiction to digital devices. He addresses suicide and mental health. He talks about time and how for many, it feels like we have none of it. He discusses love in this modern age and how people long for relationships but turn to apps like Tinder and Hinge to find them, along with many other important topics.
Each of these different points are touched on in segments that feel more like bits than part of a coherent story. I loved the erraticness of it because each time he commented on a part of life it felt fresh and different, and I never got bored. Even though at first it seems disordered, through his brilliant writing each "bit" makes sense and comes together through the challenge he is enduring all night.
Eddie had a fantastic performance at the show I attended. If there is one way I can describe his acting, it would be intense. He is able to capture every emotion his character is feeling, from scared to depressed, even crazy at times. The writing, as stated before, was very well done. I liked the perceived chaotic and random nature of the writing where at the end one can see the linearity in the chaos. The ending was also extremely unexpected yet made sense with the context of the story, having a satisfying and intriguing conclusion.This is very hard to do but Eddie does so superbly.
As a person in my early 20s I felt like this show spoke directly to me and people in my generation. It does touch on modern topics like online dating which an older generation might not relate to. Even so, I feel there is enough substance in this show to connect to a wide range of ages from older to younger. This show does have an rating of 14A so I would not recommend taking any children to see it. It touches on serious topics such as suicide and has an abundance of coarse language used throughout.
The lighting and sound design is also a standout in the performance. There are countless audio cues from ticking clocks to dialogue coming from Eddie's mind which all enhance the performance. There are also plenty of lighting changes, from only a phone light in a pitch black theatre to flashing lights when Eddie starts dancing. Where this seems like it would be prone to mistakes from all the different cues, I did not find any. The show flows seamlessly from beat to beat.
This has to be the most interesting Fringe show I have seen and definitely my favourite to date. It will be hard for me to forget this performance.
'One Night Only' is being performed three more times at the Davis Lounge in Kingston Grand Theatre, as a part of the Kingston Fringe Festival. More information can be found here.