Of loss and listening – Theatre Passe Muraille's Speculation at FoLDA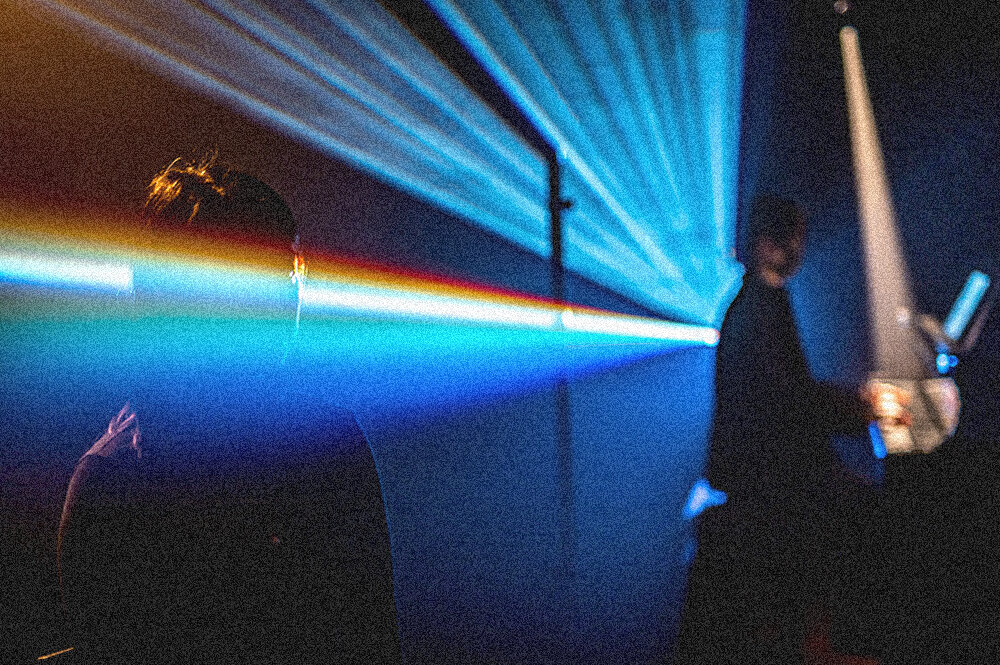 If love transforms us, grief eclipses.
Over the past year, we've all been coming to terms with a sort of ecological decay—the people and places we were, or were around. And as we reach an understanding of what exactly we've lost, we must not forget what remains.
Former optometrist and professional violinist Leslie Ting re-imagines the recital as she bears witness to her mother's vision loss and eventual passing through performance, projections, music, and motion picture. Speculation (dir. Alex Bulmer and Tristan Whiston) reflects on how Ting grapples with a mother and daughters' respective urgencies to be understood on their own terms, in conversation with the lives and works of composers John Cage and Beethoven. Originally co-produced by Theatre Passe Muraille in partnership with NUMUS, Speculation was presented again at this year's Festival of Live Digital Art on June 10th.
"For most of my life, I thought I knew who my mother was," Ting confesses. She sits on a stool surrounded by 7 rods of light, with pianist Hye Won Cecilia Lee nearby. What's discovered and what's left unknown of her mother's life inspire Ting's dramatic and musical performances which reflect how Cage uses silence to subvert expectations of music, while Beethoven famously fights it. Her matter-of-fact delivery lets the words speak for themselves, and sometimes she doesn't even need them at all. At times, it's more emotional watching Ting play the violin with familiarity and restraint as she is visually eclipsed by flashes of green light, haze, and a supercut of home videos. Music succeeds where language fails. Although incredibly intimate, the room lacked the resonance necessary to vitalize the haunting musicality of the performance.
Mostly filmed and partly live-streamed, experimental filmmakers Elinor Svoboda and Zachary Finkelstein sought to craft a sort of 'visual memory' with "descriptions of the experience of vision loss compiled from interviews, witnessing [Leslie Ting's] mother lose her vision, and [her] professional knowledge as a former optometrist." Ting remarks, "We talk about capturing the feeling of the vision loss, rather than a literal recreation. It's my grassroots way of having sighted people imagine vision loss in a creative or generative context. The designers, and now filmmakers Elinor and Zack, have artistic freedom to explore this experience."
Speculation concludes with an interactive performance of Cage's soundless work 4'33". Audience members were encouraged to dial in and collectively broadcast their silence. Following a story about regret and release, this invitation could be considered as a moment of mourning. However, recognizing that absolute silence is unattainable, Ting chooses to embrace the unique symphony of a collaborative ambience. Asking someone to listen and asking someone to be silent are not the same thing. What the live captioning offers this performance is not only an actualization of your presence to others, but a cadence to the story that would've otherwise gone unheard. 4'33" serves as an evocative conclusion between the artist and audience that illustrated how communication and love exists beyond words.
But in a way, Ting's representation of her mother is superficial as she never fully goes in depth about who her mother was, or the tumultuous dynamic of their relationship. The narrative relevancy of her mother is reduced to the time of her vision loss or her experience as the only speaking family member growing up. We often lose the connection to the performer herself because those connections between the composers and her mother are alluded to rather than illustrated.
I don't believe we're ever done getting to know our parents, and Speculation echoes a relief in not knowing. Ting explains, "This performance is called Speculation because after all my research and interviews, I was left with possibilities about my mother, not answers—and that is what has liberated me." It's a very Chinese thing to have unconditional love for our family without the emotional proximity we're familiar seeing in mainstream stories. The hurt and confliction from which she speaks are rooted in the crystallization of this emotional guard. Without detailing the specific dynamics of their relationship, the audience is left wondering who both Ting and her mother are, and what they meant to each other.
Remixing stories and art forms, Speculation asks you to shift the boundaries of what you know as perception and communication. The intersection of narrative, music, and design seamlessly harmonize as an at-home experience, and such an arrangement offers new insight into what conventional recitals could look like in the future. A story of deconstructing fixed understandings of music and people, we discover an agency in finding definition in its absence.
And that even in silence, there is something to hear.
Produced by Theatre Passe Muraille, Speculation ran on June 10th at the 2021 Festival of Live Digital Art. Click here for the show program and you can catch their artist talk here.