Selfconscious Productions Presents
FoLDA: Ways of Being
Co-presented with the Kick and Push Festival
BETA— An interactive performance for two different groups of audience, in two different cities, simultaneously.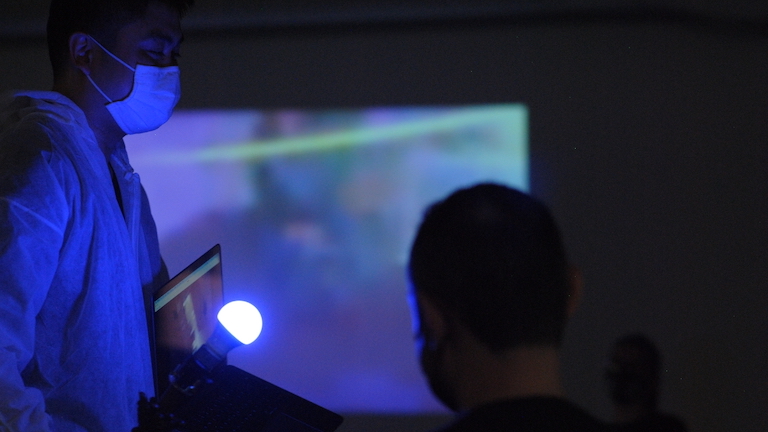 Synopsis
Clayton is in Kingston and Michael is in Krakow, Poland. This show uses the Internet and theatrical magic to create a shared space where the two artists can perform together. Canadian and Polish audience members will be invited to engage with the artists, and each other in an attempt to imagine and re-reimagine their relationships to the city, to the productive possibilities of the Internet, and to time itself
Ways of Being is a love letter to the act of gathering and the experiences that can emerge within.
Selfconscious Productions is an international production company that develops and produces work, books and manages tours and builds contexts for the presentation and representation of work nationally and internationally. We have a track record of success with building new and primarily international opportunities for Canadian work. Our focus is to find and work with exceptional Canadian performance makers, from across the country at all stages of their career, who we believe have the capacity to operate in world-class international contexts. These are uniquely Indigenous and Canadian voices who are pushing forms and dialogues forward and bringing them to a world stage.
In 2017, Selfconscious inaugurated CanadaHub at the Edinburgh Festival Fringe, which ran for three successful seasons and was awarded the prestigious Herald Angel for its entire program.
The Kick & Push Festival is an annual innovative performance festival that takes place in Kingston, Ontario. It is a professionally run three-week festival featuring award-winning Canadian performers and original, internationally award-winning work across eight venues in Kingston's downtown core.
Tickets are pay-what-you-choose
$15/ $25 / $50
Venue
Available in-person only
Studio Theatre, Isabel Bader Centre for the Performing Arts
Relaxed Environment June 10.
Showtimes
June 2023
Friday

10

at

3:00 PM

Saturday

11

at

3:00 PM