Watershed Festival Presents
Ursa: A Folk Musical
What happens when a small-town Ontario teenager runs off into the forest in search of adventure? Why, she meets an anxious bear in the midst of an identity crisis, of course!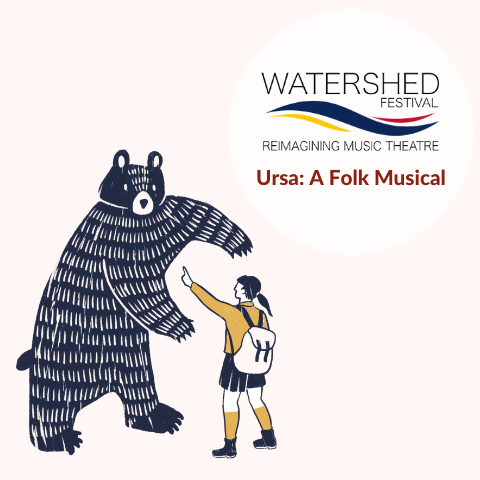 Synopsis
Combining the joys of a folk concert with the timeless wisdom of a folktale, Ursa: A Folk Musical weaves a whimsical story of star-crossed friendship.  This unforgettable exploration of the anxieties and euphorias of young adulthood is full of fresh and surprising folk tunes performed by a live band.
Ursa: A Folk Musical made its first public appearance as part of the 2021 Watershed New Works Showcase and went on to a critically-acclaimed virtual premiere at the Toronto Fringe Festival. It feels full circle for Watershed to present the first live and in-person performance of this musical the whole family will love.
More info: https://www.watershedmusictheatre.com/ursa-2022
General admission seating, there are seat numbers on each ticket but they reference the number sold, not a specific seat location. Select your seat location when you arrive for the performance.
Venue
Kingston Grand Theatre, Rosen Auditorium
218 Princess St. Kingston ON K7L1B2 Canada