Sweetheart: From a Student, Spectator, and (Former) Stage Manager
I'll admit, various lines of conflict come into play as I type these words. Not only was I the rehearsal stage manager, but I am a student who is currently attempting to pass public judgement on a show that her professors developed. In juggling how to approach this post, one thing is certain: everything I am going to say has been guided by the knowledge that my professors have passed on to me.

Directed by Greg Wanless, Sweetheart tells the story of Mary Pickford (neé Gladys Marie Smith), a Canadian-American actress who was a trailblazer in Hollywood for her work in silent films. In this one-woman show, Melissa Morris not only plays Pickford, but her mother Charlotte Hennessey, her husband Douglas Fairbanks, and celebrity columnist Adela Rogers St. John. Her performance and distinct characterizations, paired with the wonderful musical accompaniment by Clare Marion, makes each song and scene a transported space.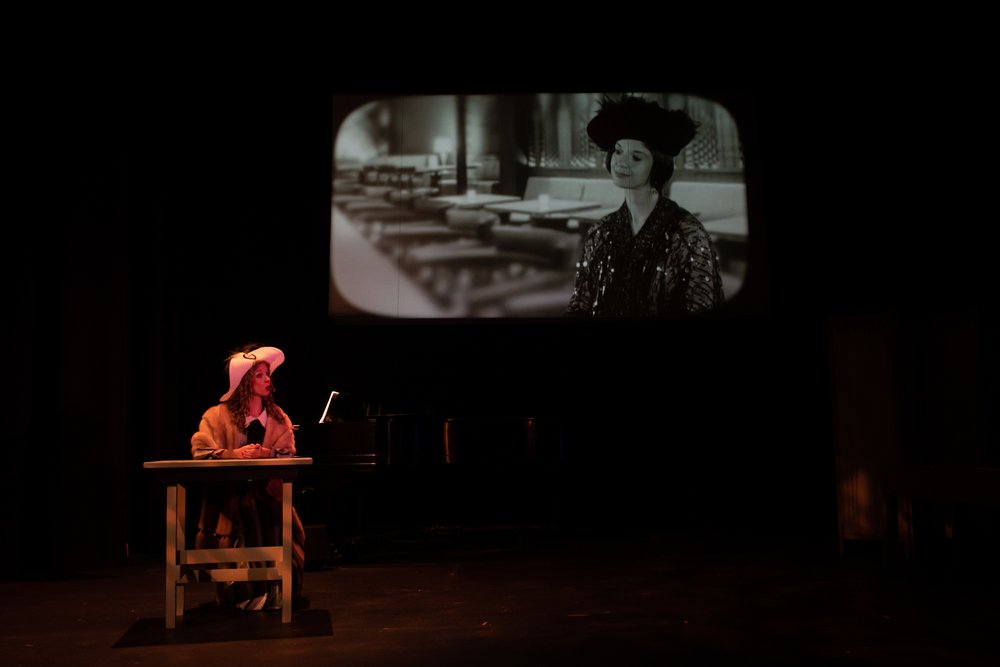 Morris sings a duet with a projected version of herself in sync with live piano, demonstrating a seamless timing between lyrics, lines, and collaboration as she balances two distinct characters. In this pivotal moment where Rogers reassures Pickford of her continued success if she marries again, the projection work by Brian Frommer and the colourful lighting design by Duncan Gould demonstrates experimental artistry that should be further implemented in future productions.
The rehearsal period for this show was short: one week of Zoom rehearsals followed by another week of in-person rehearsals, and straight to tech week. That's when I got sick and had to take a step back from the production. But despite my short-lived involvement, I have gained such an insight into how an actor works with the director and character to achieve the desired results. Having seen Morris and Wanless work through each line over countless hours online made me more grateful for the show that came of it. However, I couldn't help but wonder if the audience could also see the hard work put in. As a result, I try to imagine myself as a spectator who has never touched the material before and I choose to push questions, just as I had learned at Queen's. As a stage manager, I've learned to shut off the parts of the brain that asks dramaturgical questions because there are bigger things to be concerned about. So when I got to see Sweetheart for the first time, I had a real opportunity to ask the infamous question, "Why here? Why now?".
Why does this show only span half of Pickford's life? What moments made it to the final script, and what was left out? What impression of her legacy should we hold onto? Who gets to decide? And why should they?
I don't have the answers. I can deliver a half-assed attempt of saying that this show represents a part of performance history where adaptation was necessary for success. I could also say something about female celebrities and how they are often controlled and shaped by public reception, but in all of those potential answers, there is never one that I can settle on. When I first signed onto this project, I had no idea who Pickford was, and still now, I only have a filtered idea of a remarkable woman.
Much like Mary Pickford who has had an entire life before the stage, there was an entire life before Sweetheart saw its first performance.
Sweetheart was performed in Convocation Hall at Queen's University from December 2nd to 5th.