What do technology, absurdism, and game shows have in common? Find out with PeerLess Productions.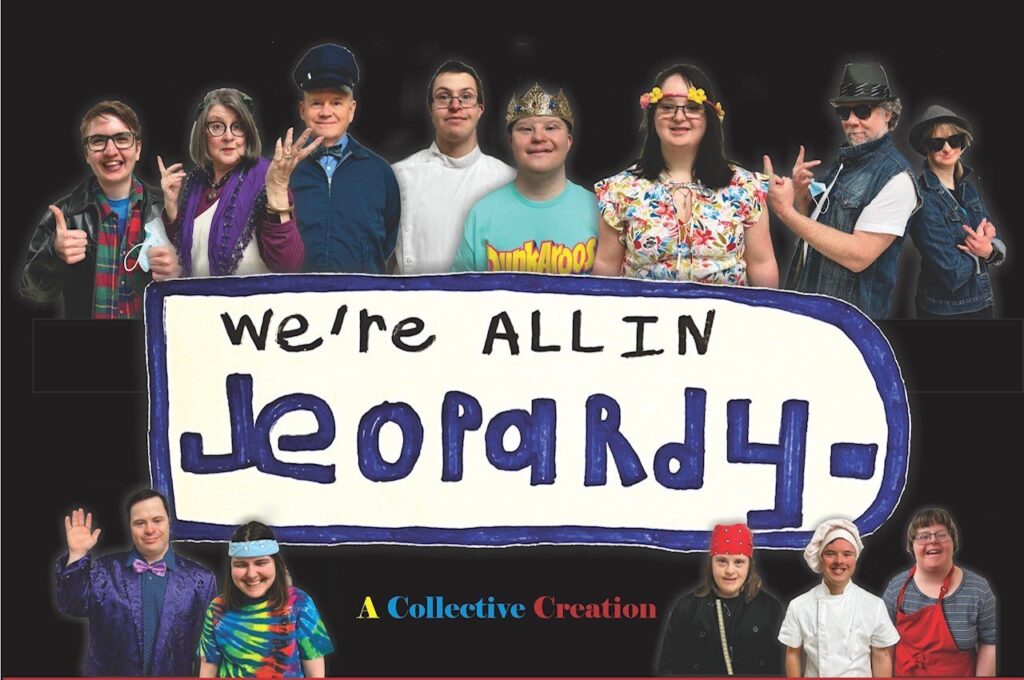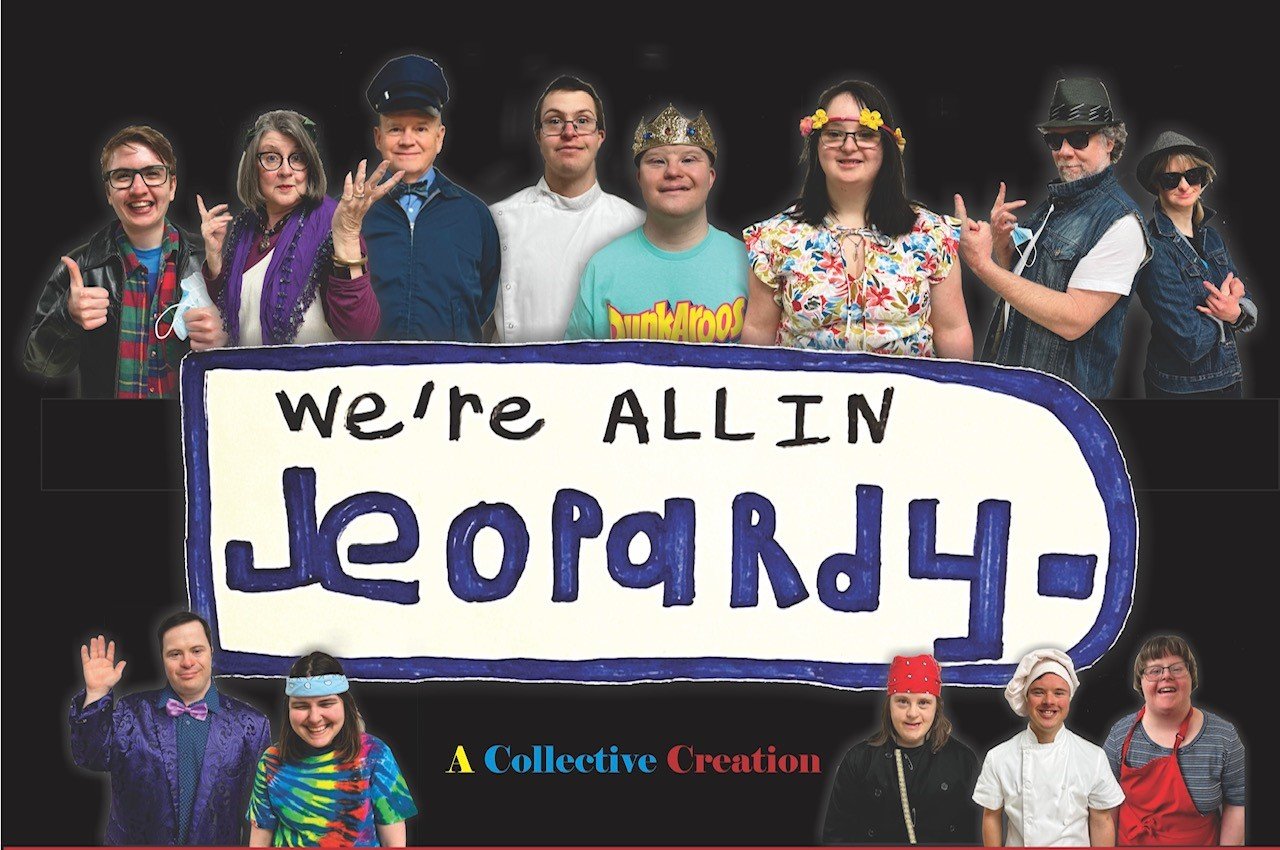 We're All in Jeopardy is PeerLess Productions most adventurous show yet. The unique mixed-abilities theatre company returns with this multimedia comedy that was birthed from collective creation.
An inter-disciplinary performance, a fictional group of local celebrities compete on a rigged game show to support make believe Kingston restaurants that have been impacted by the pandemic. The surreal spoof, directed by Kathryn MacKay with music by David Archibald, features more than a dozen characters. Running at The Box (H'art Centre) from June 17-25, We're All in Jeopardy is the first show entirely collectively-created by the acclaimed professional group.
I was able to chat with MacKay and performer-publicist Lin Bennett to talk about what audiences can expect to see in the work. The following interview has been edited for clarity and length.
Note: This interview happened as the production was in their technical rehearsals.
Thank you for being here with me today. Just a check-in question: What is your favourite game show?
LB: Oh, I don't watch game shows. I might have seen Jeopardy, but I wouldn't be a good game show-er because of my short term memory.
KM: You know what, I have to say my favorite game show is Jeopardy ironically. I'm one of those people who yells at the TV.
You guys are in tech week! How is it going? I know there are quite a few technical elements, including (but not limited to) green screen and animation.
KM: It's actually going pretty well, considering how much there is, and how much we've learned. We have a brilliant video designer named Frank Donato and Jesse McMillan has been helping us with all the videography.
There's three main elements. There's the green screen, which is live. We use live streaming to play with different realities. We weren't sure what the COVID protocols would be, and what kind of reality we were going to be living in, so we thought the more people we can get on video, the better.
We're doing a game, so there's tons of commercials. The contestants are donating money to help their favorite Kingston restaurant because Kingston restaurants suffered so much during the pandemic.
Then of course, we've got the Jeopardy board itself. And within the Jeopardy board, people appear on it and manipulate things. There are three monitors, so that each of the contestants have one. They're used not only for the Jeopardy game, but to transport people in and out of their monitor, kind of as a punishment.
We are having a relaxed performance, which will feature an ASL interpreter. But for all the other performances, we'll offer live captioning.
Could you tell me a little more about the Relaxed performance?
KM: Well, the ASL interpreter was a priority for sure. We managed to find someone who lives in Belleville, so we're thrilled with that. We will give people the space to exit and provide that support if they need to leave the show. Many of the lighting effects won't be used, and the sound will be at a lower level. It is also Pay What You Can–we wanted to make it as accessible as possible. The space is already very accessible. A huge part of our mandate is to allow people who don't normally see themselves represented in professional arts to see themselves represented. So the more welcoming and accessible we can make it, the more we can foster and engage a really thriving disabled art scene in kingston.
What world would you say the piece lives in? Is this more of a digital or a live action work? Why did you decide to create it in this manner?
LB: The whole premise and the characters themselves have been created by the performers. 'Whacky' would be the old word for it, but it's pretty surreal. It's sort of like you're going down a very funny rabbit hole in many ways.
KM: Well, it's interesting because, as a director, I've always been drawn to magical realism. I started working with these remarkable artists, and they don't live in the same sort of reality as we do in terms of the perceptions of linear structure of a well made play (whatever that is). What the technical elements do is allow a certain freedom in how we're based in reality. We make so many assumptions about what neurodiverse people are capable of, and what artists are capable of. I think if you're trying to cram them into this narrow, typical structure of presenting, then you are almost forcing them to fail.
Without giving anything away, unless you want to – what is your favorite part of the show?
LB: I think it will probably be seeing the videos interspersing with the live action, being as I haven't seen any of this, you know, but I really like it, sometimes they go at each other. It's fun to watch, really a combination of personality types in real life, but as they've expressed it through their characters.
KM: Oh, gosh, there's so many of them. The host, we called her Hope. She's the magical element,and what I love is when she finally appears, she's a crackerjack performer. The performer lives with Down syndrome, she's about four foot 4'10", and she just takes command of the stage! I love how much she's embraced that, like, she is hope. And she really wants to change these people and give them hope. For me, it validates everything that we're trying to do.
What would you like audiences to take away from their experience in the work?
LB: We can't pigeonhole and look at things as limitations, to think that they're [the neurodiverse performers] limited in what they can do. David Archibald, who's written a lot of the songs and helped with the dialogue, said, they've come up with things that he never could have come up with in a million years. For whatever reason. Whether it's brain wiring, or the way their lives have processed the world around them, there are all sorts of ways of looking at things that are just as, if not more, creative than neurotypical people. Jacob, he talks very, very slowly, and he thinks very deeply. So you just need to go along on the ride with him. If you dismiss it you may just miss the ride
KM: I think sometimes that people think, "Oh, it's a duty. I'm seeing this kind of thing because I should, and because they're disabled." From my perspective, I think it's a really solid piece of theater! I think it holds as anything else. And I think it is really entertaining, thoughtful work.
I'm hoping that people come [to see the show] not with pity, but because they honestly want to see this and what these people are doing.
You have not yet had a live audience for the work and you are opening on the 17th of June ! From my understanding of the work it seems that it is very fun, parody work. What can audiences expect in terms of the energy of the piece?
KM: Well, I know it's a cliche, but it's like expecting the unexpected. I don't think you can ever say, "Oh, I know where this is going". Because then all of a sudden, a character disappears. I think There's such a sense of joy to it. But also a sense of what we've all come through these last two years. If we're left with joy, we're left with hope, and I think it is a beautiful thing.
We're All In Jeopardy runs June 17-25 at The Box (H'art Centre). Click here for more information.