A mesmerizing memoir: 'Menno-Morphosis'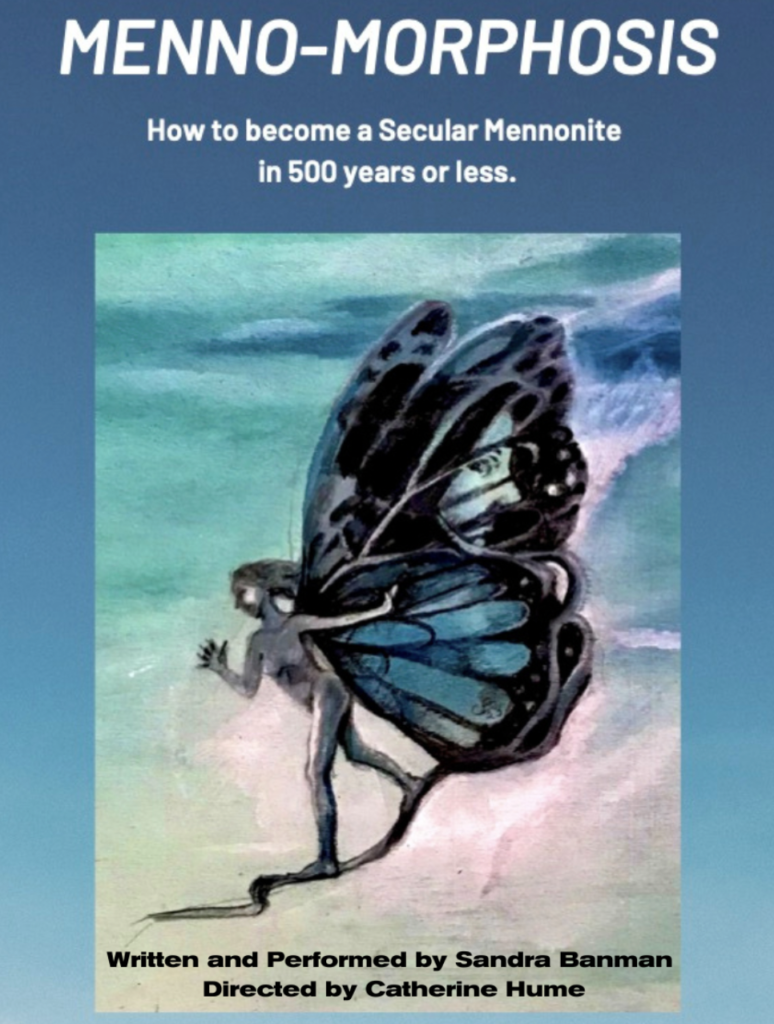 So, you're 50 years old and sobbing under a desk at work. Where do you go from here? If you're Sandra Banman, you'll crawl out and craft a beautiful memoir. Presented with gentle wit and a generous spirit, Menno-Morphosis is a one-woman show written and performed by Banman and directed by Catherine Hume.
It takes a lot to grow up and out of a strict Mennonite family in Manitoba. Banman is confronted by her inner child as well as her inner zealot as she revisits significant moments in her journey away from evangelical religion. With a keen eye for the ways that trauma clings to the fibres of our being, Banman offers insight and hope, recounting both painful and humorous memories with curiosity and compassion.
The tongue-in-cheek framing—Menno-Morphosis is presented as a seven-step program to become a secular Mennonite in 500 years or less—gives Banman's cluster of anecdotes a helpful throughline, and the show succeeds in creating a satisfying story arc that keeps the audience engaged. Somewhere around step three, we learn that Banman is a teacher, and suddenly I envy her students—it's rare that I don't get fidgety after sixty minutes in a theatre, but with her incisive writing style and laid-back delivery, I would have been willing to sit and listen for hours.
Banman's gripping performance is bolstered by Hume's inventive direction (the table onstage is climbed on and cowered under and, frankly, deserves its own credit as a cast member) and the clever integration of visual media—from family photos to archival clips of televangelist programs—into her storytelling. One exceptional moment comes when Banman describes sitting down with her mother, aunt, and uncle to talk about their wartime experiences. Accompanied by footage of her relatives sitting in awkward silence, Banman gives voice to the parts of the conversation that are left unsaid.
Menno-Morphosis doesn't indulge in inspirational-quote-covered cheer, nor does it wallow in immobilizing gloom. Instead, Banman takes a lucid and mature look at the formative experiences that shaped her sense of self, as well as the intergenerational traumas that defined the relationships in her family. She is frank about the fallout of religious abuse—this becomes especially poignant as she recounts her childhood relationship with her mother—while remaining committed to giving a caring, nuanced portrayal of the people she comes from.
Banman's storytelling is highly personal while hitting on many broader truths that will resonate with anyone who has fought with their upbringing, endured shame-soaked love, or found themselves having a breakdown in a staff meeting. Wherever you come from, if you're looking to be drawn out of your emotional cocoon, look no further than Menno-Morphosis.
'Menno-Morphosis' is playing at the Confederation Place Hotel in the TK Fringe Festival until August 10th, 2023. Find more information and tickets here.