'bittergirl' brings back Memories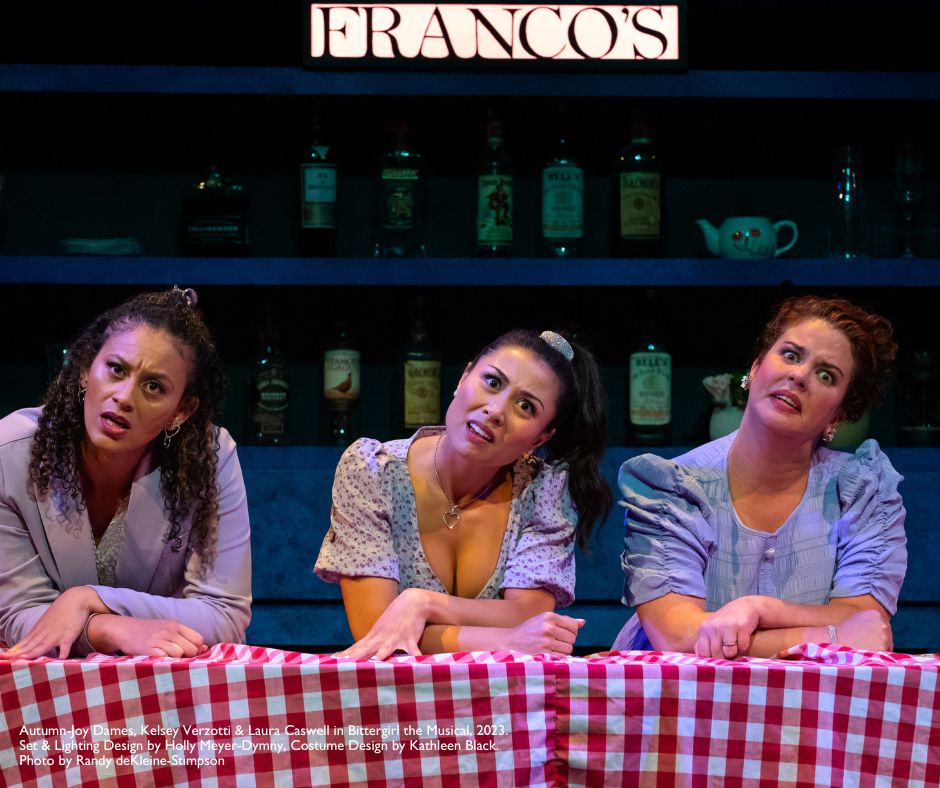 You just got broken up with. How would you feel? Angry? Betrayed? Bitter?
bittergirl is a musical comedy that was originally a play created by Annabel Fitzsimmons, Alison Lawrence, and Mary Francis Moore. Throughout the musical, audiences follow three unnamed women titled A, B, C, and performed by Autumn-Joy Dames, Kelsey Verzotti, and Laura Caswell, as they each go through a breakup. The three women find companionship in each other and through this they each attempt to get over their ex (Kevin James Doe).
All four actors deliver outstanding performances in roles that appear tailor-made for them. They are terrific singers in their own rights and extremely funny. Doe put in a shift, having to play the part of all three exes. Each of which have vastly different personalities but Doe is able to transition between the exes fluidly and, at times, comically. Along with his superb acting, Doe's incredible voice shines as a stand out in the performance. He demonstrated his versatility doing impressions of legendary older singers like Elvis in a funny yet impressive way.
The direction by Saccha Dennis was the most impressive aspect of the musical for me. Her ability to construct scenes where Doe was on dates and talking to each girl simultaneously was majestic. This, coupled with clever dialogue, created well executed chaotic scenes that were enjoyable to watch and easy to understand.
Along with its comedy, the show extensively relies on its music which is fitting for a musical production. It is essentially a sung-through musical featuring jukebox hits (Music Supervision by Bob Foster) such as "Ain't No Mountain High Enough" and "Where Did The Love Go?" along with other songs from the 60s. The actors sing exceptionally well showcasing their beautiful voices. While the band, consisting of Rachel Cameron (Music Director/Piano), Sean Corcoran (Guitar), Fiona Varty (Electric Bass), and Jasmine Jones-Ball (Percussion) performed eloquently without fault.
Some criticisms I have with the musical have to do with the plot, pacing, and comedy. I found the story to be fairly simplistic and paperthin. With it being a musical comedy, I found the story took a backseat to the songs and the comedy. I would let this slide if the comedy and music were exceptional and groundbreaking. In this instance, neither were strong enough to have a story so surface-level in a two hour performance. I do appreciate that they attempted to tell three stories simultaneously and all were done so in a coherent and interesting manner. However, I was annoyed at times when the show transitions from song to song without much plot development. The show also opened with a very slow pace and quickened vastly towards the end of the musical which created a jarring pacing issue.
bittergirl leans heavily on its comedy which, for the most part, is fairly funny. With that being said, I feel like the comedy, and the show in general, is catered to an older audience than that of myself. Because of this, many jokes did not land for me. The audience did consist of people mostly older than me who seemed to have a great time and were laughing the whole way through. Not only does it seem catered to an older audience, but I should also note that this performance is definitely not suitable for children. It has plenty of coarse language and some sexual innuendos.
Overall I did still enjoy my time seeing bittergirl. It is a musical that will put a smile on anybody's face. While it does have minor issues, with fantastic performances by its four leads it is still a fun time out at the theatre. 
'bittergirl' is performing at Thousand Islands Playhouse until September 16, 2023 and more information can be found here.