Experiencing the Cedar Island Residency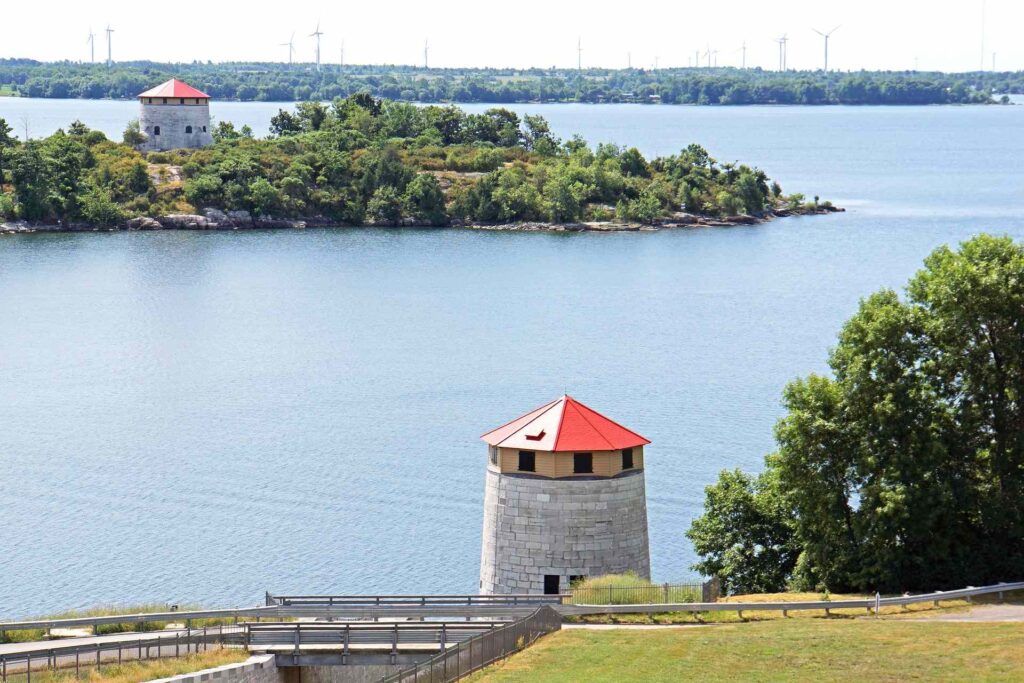 On Tuesday, August 15th I was invited to see the first viewing of the Cedar Island Residency performance taking place the following day. I was not told much about the performance, giving me a feeling of nervous excitement. This is the first performance I have ever attended where I did not have much information about it beforehand. The only thing I was told was to meet at the Kingston Marina at 6:00pm for pick up, and that I'd be dropped off back on the mainland before dusk. 
The boat picked up my friend and I, along with the other five audience members from Kingston Marina at approximately 6:00pm. It was a nice, quaint boat which took us from the mainland to Cedar Island, a very small camping island off the coast of Kingston. The boat ride was wonderful. It was a beautiful sunny day and the view looking at the Kingston Harbourfront was exquisite. Being a small boat we were prone to getting sprayed with water, which, personally, I found contributed positively to the experience. That being said, there were people in our group seated in the front of the boat that got a comical amount of water sprayed on them.
We got to the island after around 10-15 minutes and were told to explore it until the performers were ready. My friends and I visited the outhouse first, which were surprisingly very well-kept, then ventured on our exploration of this minuscule island. We followed the one and only path and we encountered the beauty of the island, from elderly trees to stunning flowers. As we continued on, we began to hear music ahead of us, which seemed odd. We continued on until we entered an opening with a DJ (Akash Bansal) playing music from speakers next to the Cathcart Tower—an old military tower. This was extremely peculiar, but a pleasant surprise. We ventured around the tower and conversed with a few of the organizers.
After a while, my friend and I were ushered back to the DJ where the other five people in our group were dancing to the music which mainly consisted of EDM (electronic dance music). We followed suit for a few minutes until a man (B. Solomon) appeared from behind and started dancing along with us. He quickly took charge of the dance floor, dancing with others in our group and performing elaborate movements that I can only describe as a type of interpretive dance. He was quickly joined by his collaborator Mariana Medellin as they moved along to the music for around 30 minutes, with the audience dancing along and watching.
After the performance, we had around 15 minutes to talk with the performers before our boat departed. They were extremely friendly and welcoming. It was incredibly fascinating to hear their interpretation of the performance they created. We were told they got dropped off on the island three days before we arrived and were told to create something before we got there. This explained the ambiguity of the performance description beforehand given this was their first ever performance.
Soloman then guided us around the island, leading us back to our boat. Along the way, he took us to their campsite, where we were treated with a stunning view of Lake Ontario. When we got to the dock, we said our goodbyes and thanks as we hopped aboard the boat for our journey back with one of the most breathtaking sunsets I have seen all summer.
This was an experience I will never forget and I am glad I had the opportunity to participate in. The boat ride there and especially back was beautiful and an enriching experience to be a part of. The island had stunning greenery and views. With that being said, the performance wasn't something I personally enjoyed. Interpretive dancing isn't something that excites me and it was hard for me to interpret what Solomon was trying to convey. I did not know where to start in thinking about what it might mean. Because of this, I found myself reflecting on the meaning instead of enjoying the performance in front of me. I also don't love dancing myself so feeling somewhat forced to dance made me uncomfortable at times. I can certainly appreciate the art form and Solomon as an artist, but the performance in itself was not my cup of tea. Even so, it seemed like the other five members in our group loved the performance and took a lot more out of it than I did. 
I did find it interesting that they chose to do the performance next to the Cathcart Tower. This tower was made in the 19th century as a defence for British North America. With Solomon being an Indigenous performer and the tower being seen as a staple of imperialism, it added an extra layer for the audience to interpret. I also enjoyed the song selection from Bansal and the ambiguous start of the performance. After speaking to Solomon, each audience member described the different moment when they'd realized they were amidst the performance we came to the island to see. This I found fascinating. I also liked how everyone watching interpreted something different from the performance without there being any right or wrong.
This was an evening I was delighted to be a part of and one I will never forget. It was a wonderful experience, full of surprises and interesting moments.
The Cedar Island Residency ran from August 13-18, 2023 as a part of the Kick and Push Festival. Details can be found here.