Last, last, last Friday was a DRAG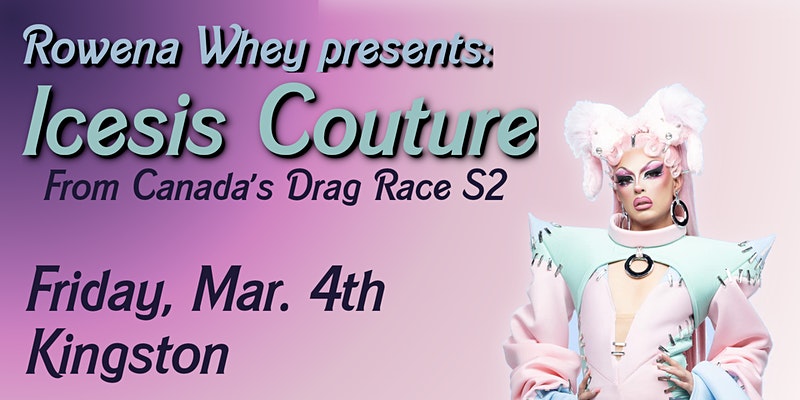 When the winner of Canada's Drag Race Season 2 pauses their banter to tell the room that you're really pretty, you don't expect your night to get better from there. A voice, $25 and four Balzac's coupons short—I stand corrected.
Accompanied by local favourites Rowena Whey, Tyffanie Morgan, Lilith Cain, Mimi Osa, and Rane St. Cloud, Rowena Whey presents: Icesis Couture marks the headliner's return to Kingston as Canada's next Drag superstar. As much as the crowd is excited to see the performers they know and love, it's not everyday you get to see the contestant you fell in love with over lockdown, in person.
But take everything you learned from Drag Race and throw it out the window. The hit reality competition television show is an incredibly popular point of contact for Drag culture at large, but don't expect the drama, spectacle, and competition you see onscreen onstage. Icesis Couture herself notes how Whey's legacy as a long-time organizer and supporter of Drag artists in Southeastern Ontario played a major role in her success. In the early stages of her career, Whey was the first one to book Couture for a show outside her city.
At its core, the artform of Drag is rooted in crafting community. And that's exactly what makes the Kingston Drag scene so special.
The audience is waiting with bated breath as Whey makes her way across the stage and asks, "How are you doing tonight, Kingston?" so they can respond with the customary, "FUCK YOU, BITCH!" It's a long-standing tradition specific to the city and the reason I ended up hoarse. Between performances, she banters with Morgan (on technical support), their friendship a well-loved and well-known part of the experience.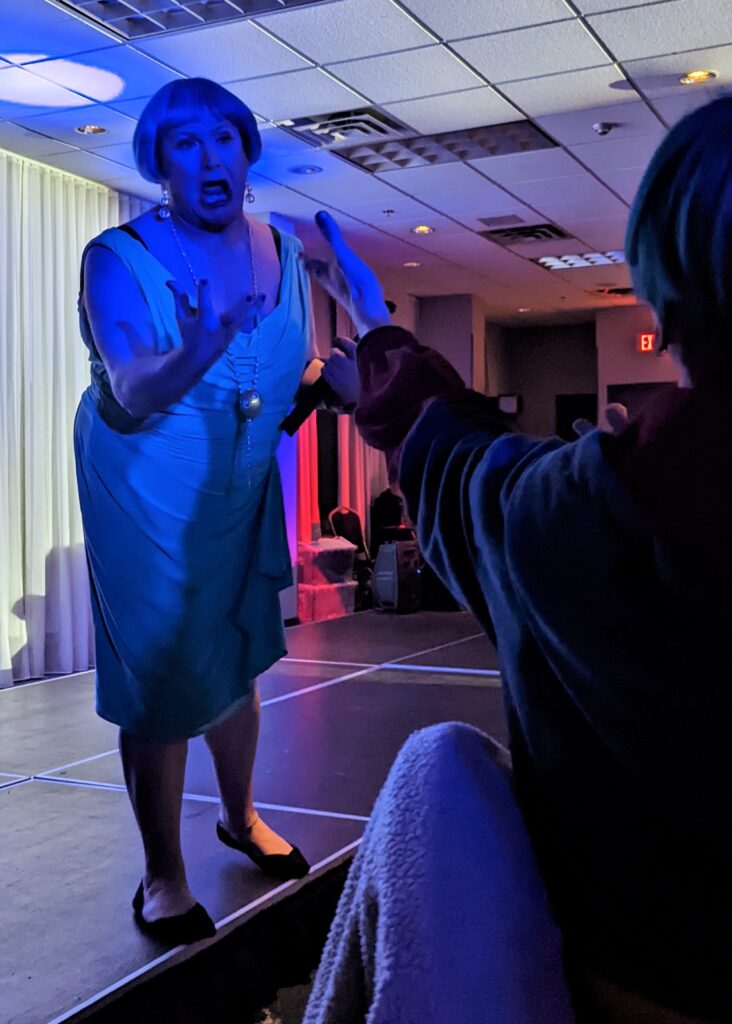 It's Tyffanie Morgan who opens the evening with a campy rendition of ABBA's Dancing Queen. This is a queen who reminds me that the impulse of Drag is to perform gender, not to impersonate it. She might not be delivering a showstopping spectacle, but Morgan makes people laugh and enjoy themselves with such an ease the way you would watching someone's mother who's had a few to many at the in-pool bar of an all-inclusive.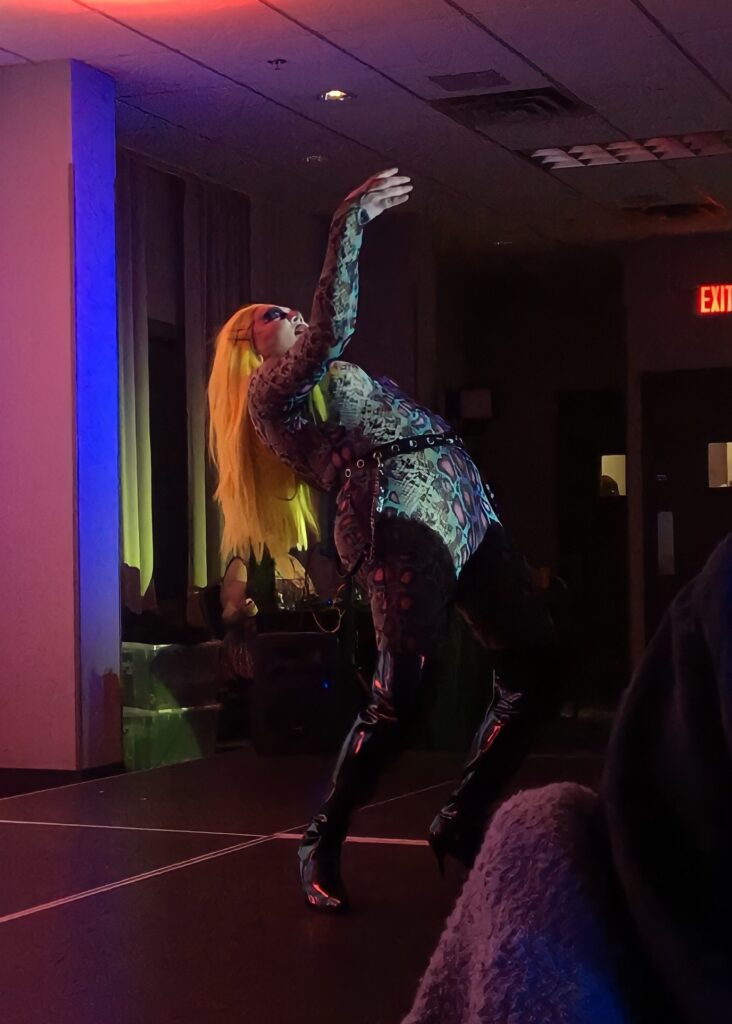 Lilith Cain certainly lives up to her title as Kingston's 'trash queen'. In leopard print, latex, and bright yellow curls, she delivers attitude on attitude on attitude. She has the style and stage presence that lets you know she relishes in being herself. There's a sort of timelessness in the way she connects with the audience, the way she throws abandon to serving a 'performance' and just gives you what she's got.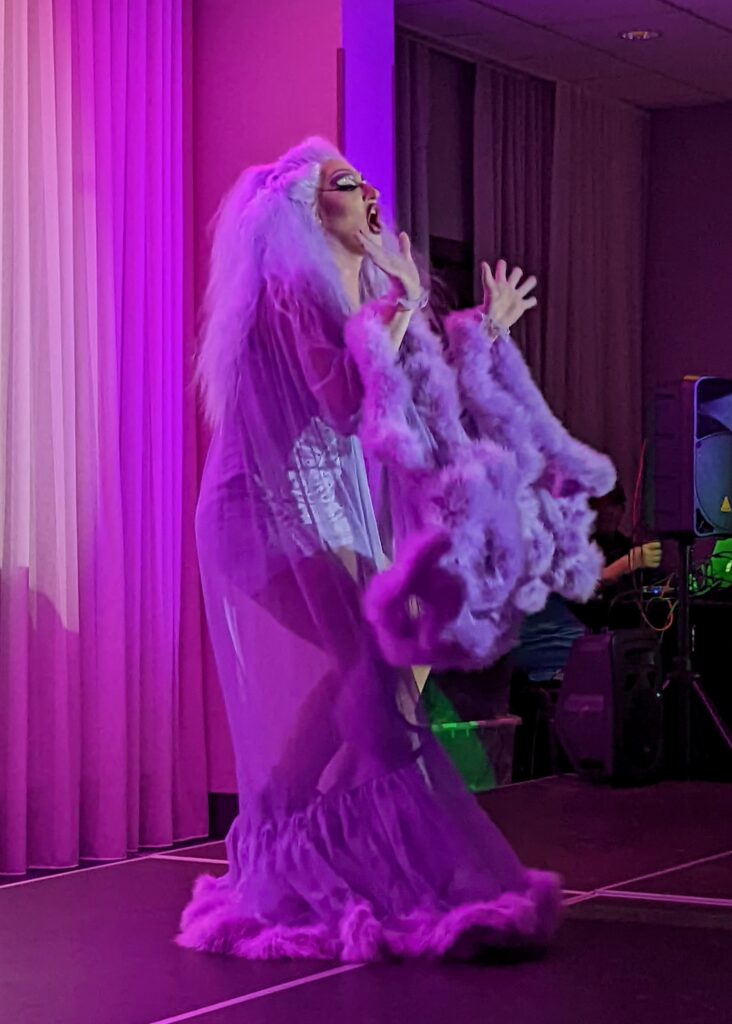 In contrast, Mimi Osa embodies what I understand as the modern ingenue. With head-to-toe lavender, she reflects a soft, sweet spirit with a hint of melodrama that is incredibly reminiscent of today's pop princesses. Even when that polished veneer starts to crack, the way Osa continues living her diva fantasy to its fullest lets the audience in on a vulnerable side of the queen others may not be privy to.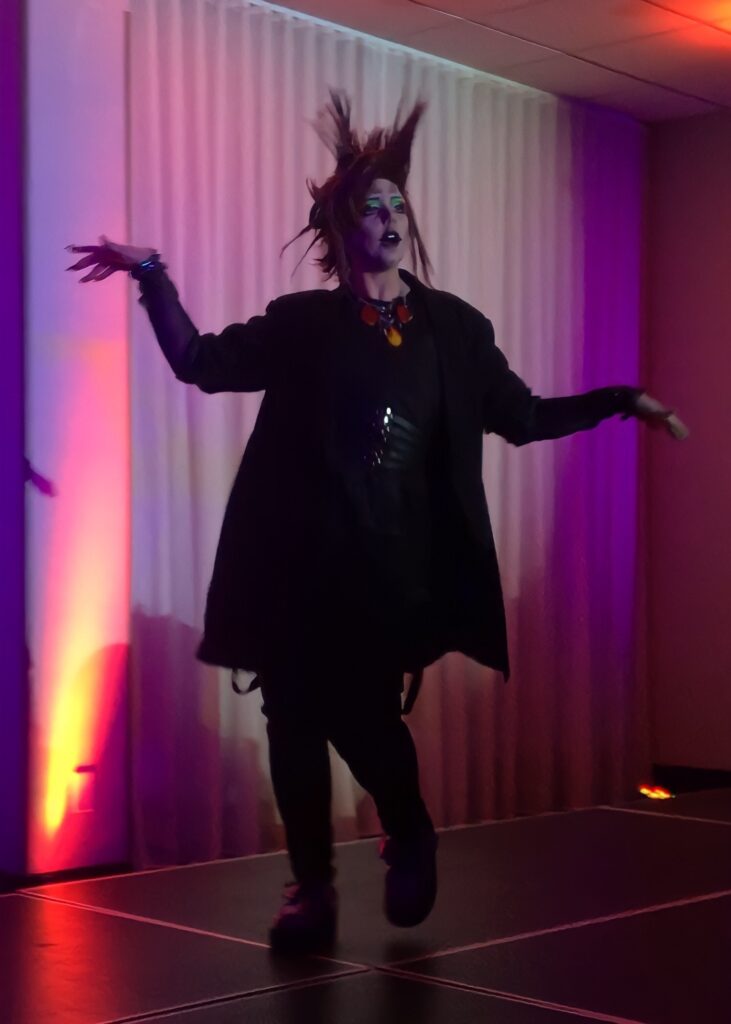 Rane St. Cloud viscerally threw me back to my adolescence with their performance of Set if Off's Wolf in Sheep's Clothing. The pop-punk prince presented a living fantasy of the kids I hung out with in high school. In the culture and genre of emo, the theatricality of emotion lends itself to abstract and defy perceptions of gender. While St. Cloud continues refining that style of performance for an outside perspective, their artistry ultimately shows us there's no right or wrong way to do Drag.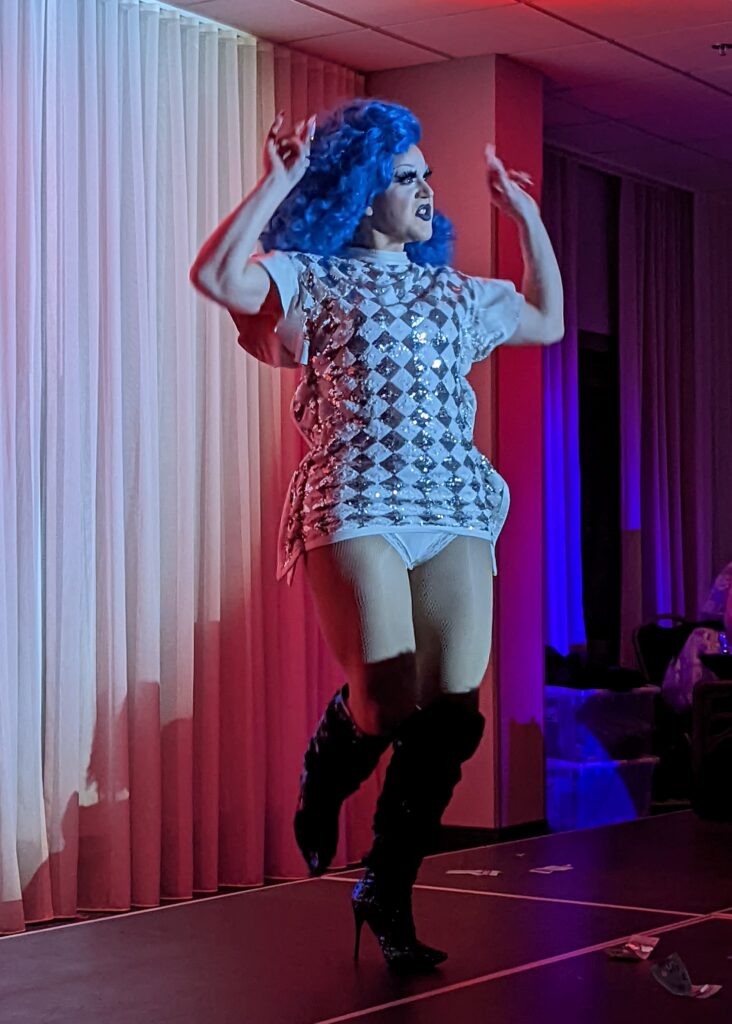 The ringleader of it all, Rowena Whey is as captivating as she is welcoming. And on top of two dynamic lip syncs, she invites a special birthday boy onstage for an equally special impromptu burlesque number. When the audience feels as though their presence and engagement can affect the performance, the room becomes something special. And it's moments like these that invoke the sense of belonging and connection we've been craving.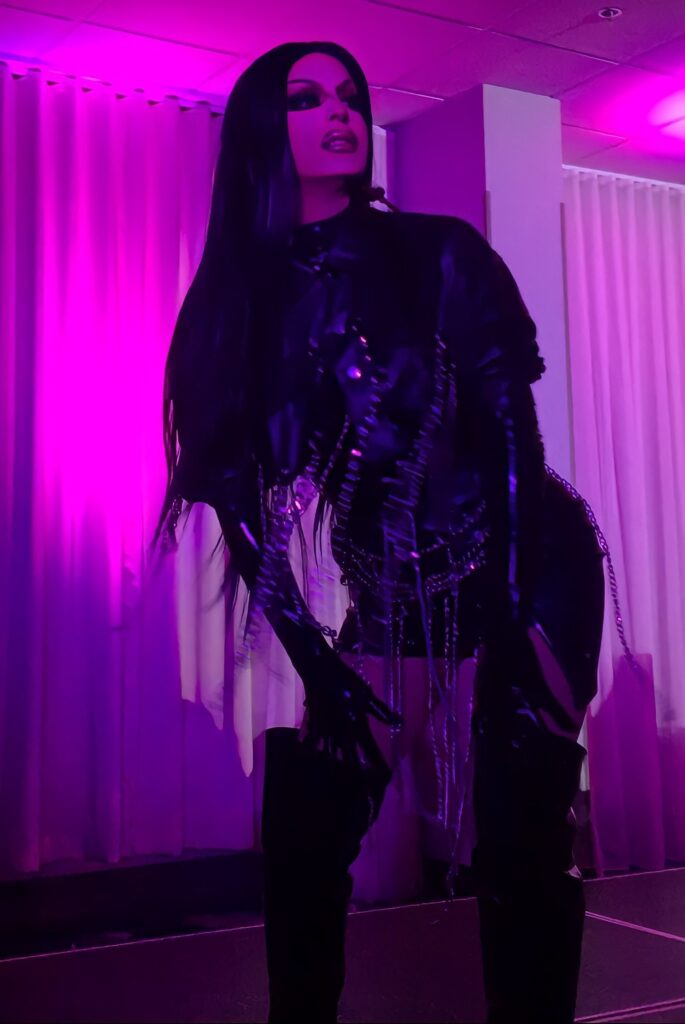 Aside from being the reigning queen of CDR, Icesis Couture really is THAT bitch. Her attention to detail and commitment to delivery is without a doubt how she has become the artist that she is. She choreographs her movements with the garment she's wearing, truly understanding herself as a vessel for performance, never missing a beat or a word. She interacts with the audience with the same enthusiasm of a random girl in the Stages bathroom who tells you not to text your ex back—magnetic and genuine. Forget about Canada's next Drag superstar, Couture is Canada's next it girl.
Yes, you should tip your queens as much as possible! But it felt as if Couture was the only performer who delivered a show before they went into the audience to collect their money. It's not that any of the artists were lacking, but the time for the audience to understand what each performer brought to the table that night was cut short. Especially for newcomers, it's a critical opportunity to be introduced to the leaders of the Drag community that everyone else already knows and loves.
But from the recurring jokes about queens only able to perform under the influence to the pressure from performers to purchase drinks for the artists, it was almost as if consumption was an obligatory part of the Drag experience and community. With higher rates of substance use amongst people who identify as 2SLGBTQIA+ and Kingston's limited social alternatives to queer events, the safe spaces we create for the queer community must also consider varying levels of sobriety.
A birthday party, a reunion, a family night out—there were a million different reasons why people showed up tonight. And I was genuinely surprised by who the audience was made up of. There was no clear demographic of Drag lovers here. At one table sat a group of grown men drinking beer the way you'd expect at The Toucan, at another sat a group of first-year university students who had never ventured this far off campus.
I didn't mean to go to my first Drag show in Kingston. I just happened to be in Barcadia when the lights suddenly dimmed, and I looked up to notice a sizable crowd had gathered around a performer with hair the same height as their heels. You can imagine my surprise that this happened to me twice.
But tonight, it seemed as though everyone here was where they belonged.
Rowena Whey presents: Icesis Couture ran March 4th at 8pm at the Holiday Inn Kingston-Waterfront. Tickets for Mother Knows Best on April 1st, featuring Kiki Coe and Sanjina Dabish Queen from OutTV's newest hit show Call Me Mother are available now. You can also catch or perform yourself at Kingston's Open Stage Drag Show every Wednesday of the first month at the Grad Club.