'Miracle on 34th Street' showcases family Fun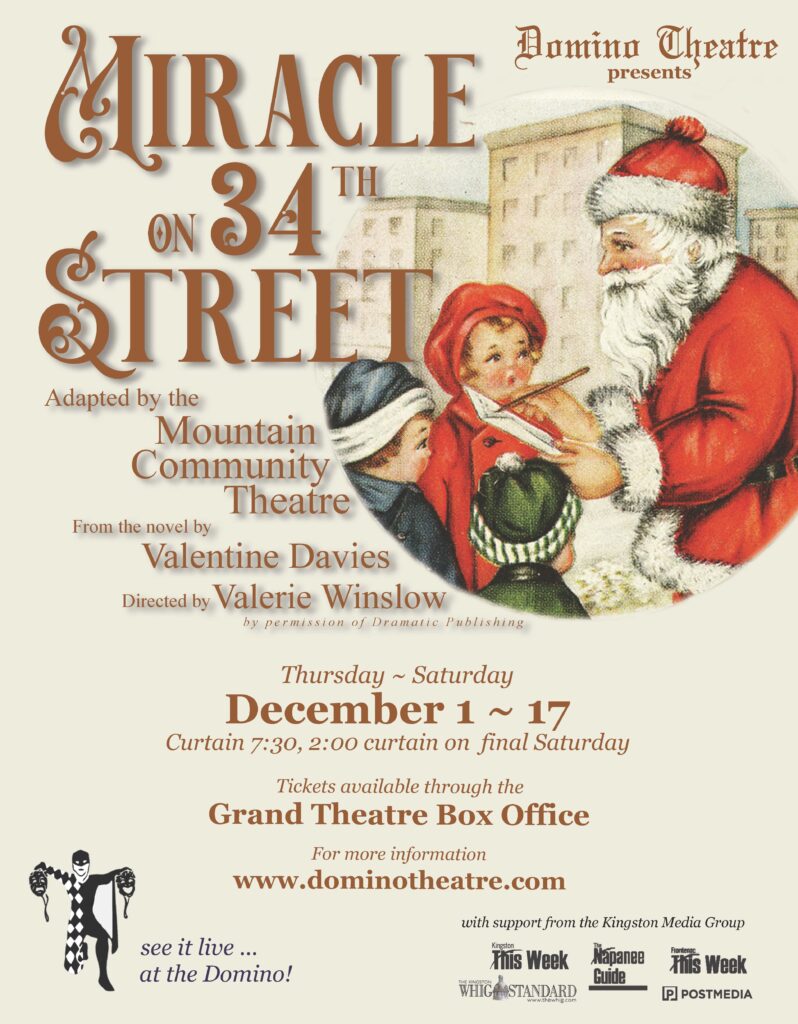 At the Domino Theatre, a by and for family Christmas meditation on what it means to believe is showing. Miracle on 34th Street as it exists onstage was adapted from the 1947 film of the same name. The premise of the show sees a stranded Kris Kringle (Phil Perrin) as he tries to spread Christmas spirit around New York City, encountering the unlikely trio of Doris Walker (Jennifer Tryon), her daughter Susan (Isabella Searle), and their next door neighbour Fred Gayley (Jason Bowen). Kringle, newly employed at Macy's department store at the behest of Walker, must defend his identity against nay-sayers with the help of lawyer Gayley.
While I suspect many (if not all) of those in attendance are familiar with the film or its many remakes, the specialty of Domino's production is the familial charm that the cast brings to the stage. An eagle-eyed playbill reader will no doubt notice that many members of the cast share family names. It seems like having cast and crew be family might be a small town quirk, but I think that in the case of Miracle on 34th Street it adds some genuine Christmas spirit to the action onstage.
The production itself hinges on being a charming holiday play with the magic of the season urging you to forgive some of the lacking aspects of the show. The consistency of the acting is varied throughout the cast, but special mention goes to Dayna-Lynn Nevay and her portrayal of Dr. Pierce, the kind and trustworthy doctor that Santa Clause relies on to help convince others of his sanity. Her performance was just bright and tactile enough for it to feel like she was aware of the themes of the show without having the halting delivery that sometimes plague actors in such roles.
The lighting was also a stand-out aspect of the show. The designers and technicians both served the action onstage with expert timing and well executed use of the stage, creating and changing the space from scene to scene.
One really can't go wrong with a theatrical outing this time of year, and I would never discourage a theatre-goer from searching for some light as the days grow shorter. Maybe Miracle on 34th Street is just the show to get you in the holiday mood.
'Miracle on 34th Street' is playing until December 19. More information can be found here.
This article was edited on 12/11/2022 to reflect that Fred Gayley is played by Jason Bowen.