Leading Ladies: Musique 3 Femmes at the Watershed Festival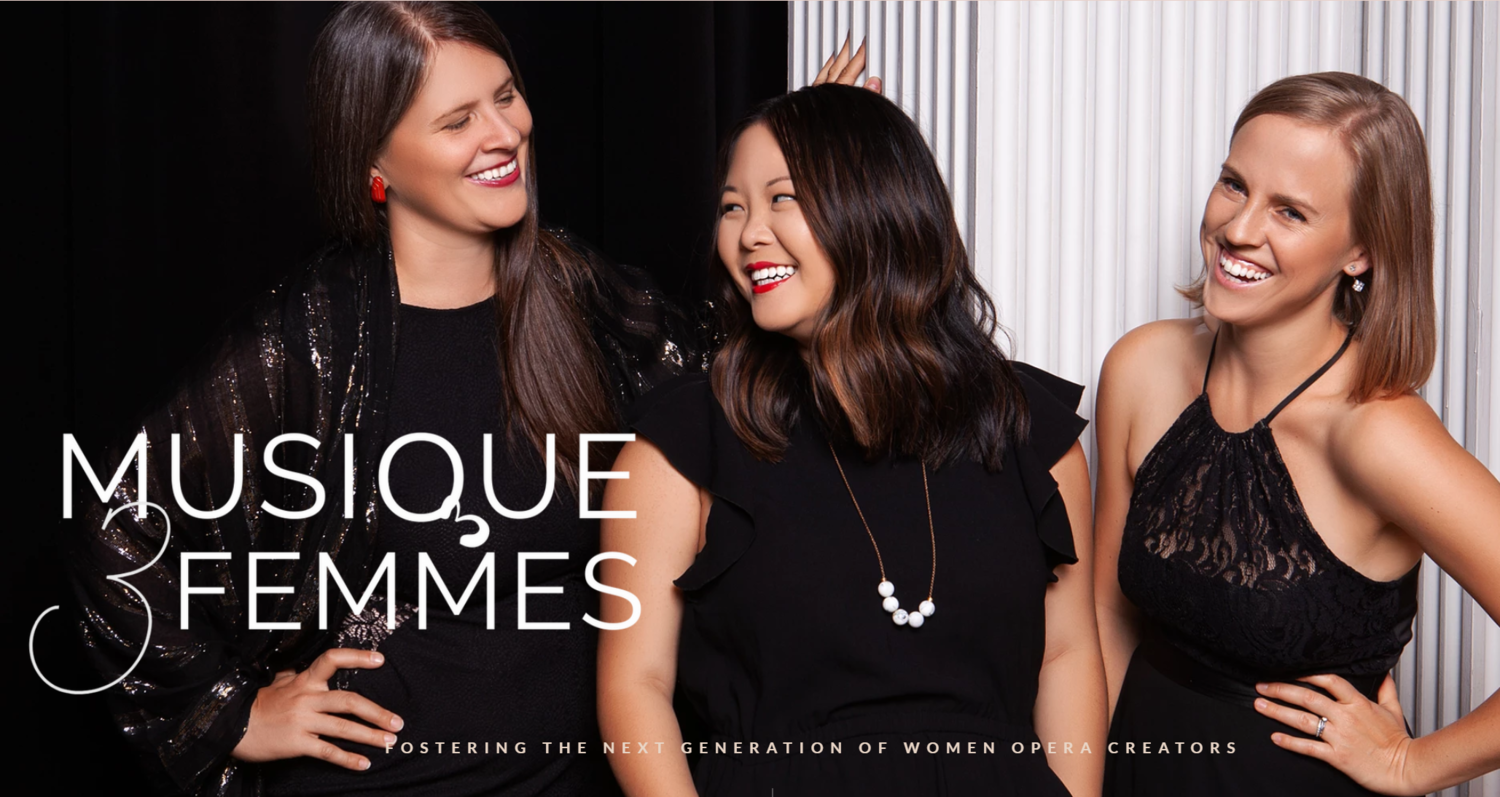 In a time of creative and collective upheaval, the inaugural Watershed Festival examines the integration of music, drama, dance, and design as musical theatre or opera, exploring those boundaries in order to revitalize the ways those artforms are practiced and understood.
Between May 25-28, the DAN School of Drama and Music at Queen's University presented a variety of panel discussions, performances, and events directly addressing where music theatre enters in the continuum of our social and artistic communities. Upon merging their formerly separate programs in 2016, a critical cross-pollination has become apart of the DAN School's mandate. This year, the Watershed Festival presented female creative leadership in opera from Musique 3 Femmes, an assortment of emerging artists at the New Works Showcase, and a sneak peak presentation from award-winning music theatre creator and DAN School Artist-in-Residence Leslie Arden's latest commission The Lancashire Lass.
Musique 3 Femmes (M3F) is a non-profit ensemble fostering the next generation of Canadian opera creators, bringing the creative voice and artistic leadership of women-identifying creators to the forefront. M3F was founded in 2018 by soprano Suzanne Rigden, mezzo-soprano Kristin Hoff and pianist Jennifer Szeto, with soprano Rachel Krehm joining in 2020. In partnership with Mécénat Musica, the Mécénat Musica Prix 3 Femmes is a biennial award supporting emerging female composers and librettists "through seed funding for new works, mentorship with industry professionals, travel stipends, musical & staging workshops for the creations, and over 200 hours of rehearsal and development time with professional musicians." This year's recipients include Sonia Paco-Rocchia and Marie-Eve Bouchard's Justine et Les Machines, Parisa Sabet and Nike Khanjani's Vanishing Point, and Anna Pidgorna and Maria Reva's Plaything.
JUSTINE ET LES MACHINES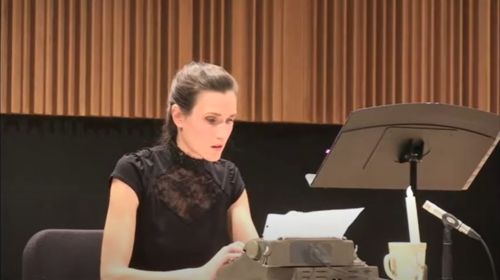 Justine et Les Machines follows Justine as she writes to her favourite and forgotten 19th century French composer Augusta Holmes in an attempt to escape the solitude from isolation and post-cancer writer's block. Guest soprano Ellen Wieser embodies Justine's frustration before she even sings, the clicking sounds of the typewriter punctuating and fusing with the musicality of the score. The desire to connect with someone who understands you after a period of crisis is evident in the haunting psychology reflected in Rocchia's composition and Bouchard's libretto. And for non-French speakers, subtitles aided in translating the emotional tone of the story where full-scale production choices might've set the world Justine et Les Machines takes place in.
VANISHING POINT
Vanishing Point explores "what love and radical acceptance looks like when caring for loved one with dementia." As details emerge from her mother's earlier life, Wieser's performance brings an almost anti-nostalgia to her character who is left to grapple with a past and present that increasingly does not belong to either of them. Composer Sabet and librettist Khanjani have craftly employed the operatic genre to evoke the raw inevitability of reconciling with the choices of your parents long after they made them.
PLAYTHING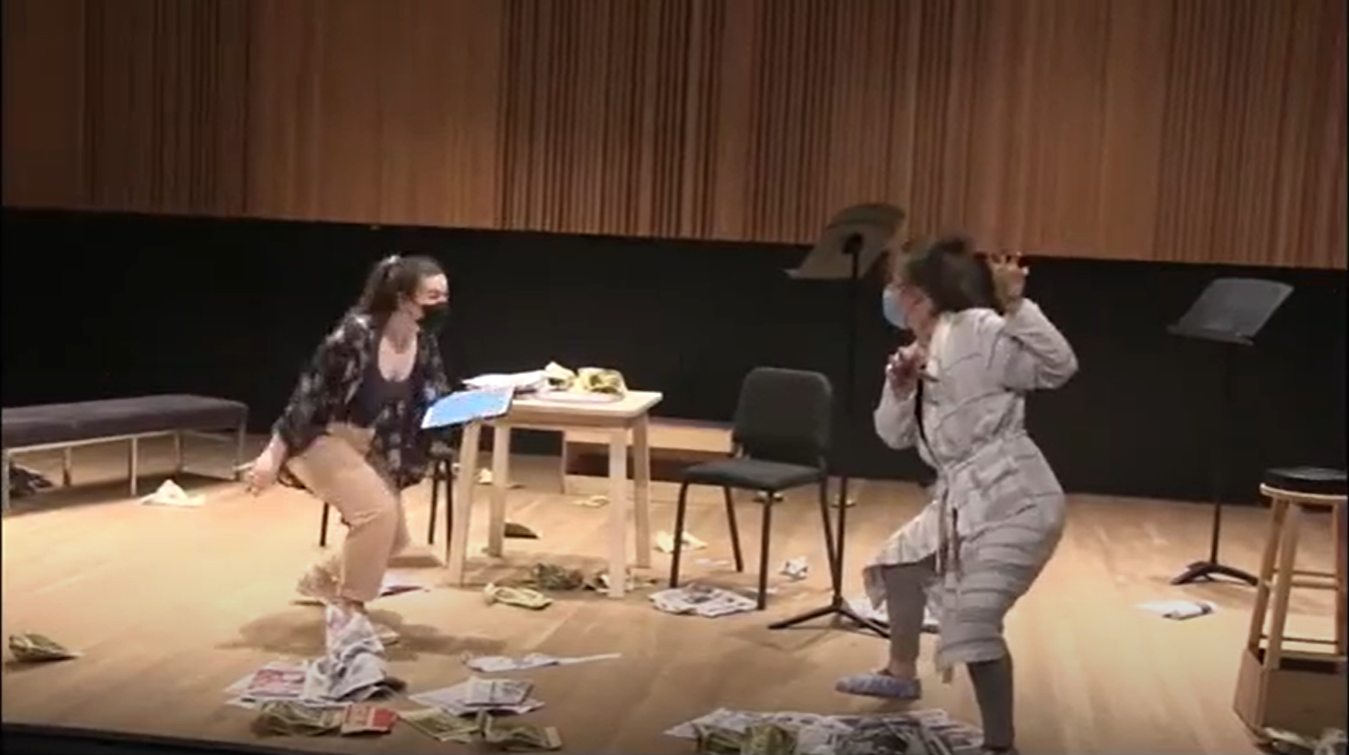 Inspired by Wikileaks founder and activist Julian Assange's asylum at the Ecuadorian embassy in London, Plaything finds Isla (Kristin Hoff) in a similar nature of isolation with only a parrot (Bridget Esler) to keep her company. Confined to the stage or the embassy, the musically-driven narrative of opera provides a strong emotional foundation for the sister-duo's style. Composer Pidgorna describes composing during pandemic like pulling teeth, citing difficulties entering the psychology of the characters and finding their musical language. Initially seeing Isla's emotions as "comical or narcissistic, like someone craving public attention and missing her days of glory", as lockdowns progressed, Pidgorna had come to understand how she was similarly struggling with questions of her own relevance. Librettist Reva echoes how humour acts as a trojan horse for things we don't often let surface. Hoff authentically fluctuates between comedy and tragedy while Esler's characterization of the parrot was infused with the inherent musicality of the classical form. The entire team has uniquely fine-tuned the language of opera to reflect a contemporary understanding around the frustrations of isolation, bringing various interpretations of the sense of feeling forgotten.
Musique 3 Femmes was apart of the Watershed Festival which ran May 25-28, 2021. Presented by the DAN School of Drama and Music, the inaugural festival examines the integration of music, drama, dance, and design as musical theatre or opera.JUNE 17, 2021