Watershed's New Works Showcase dives in head first
The Watershed Festival continues to explore how and who exactly are the artists examining and developing music theatre as we know it.
The New Works Showcase featured a series of upcoming projects at various stages of development from artists across the country, followed by a live Q & A with the creators.
ZULEYKHA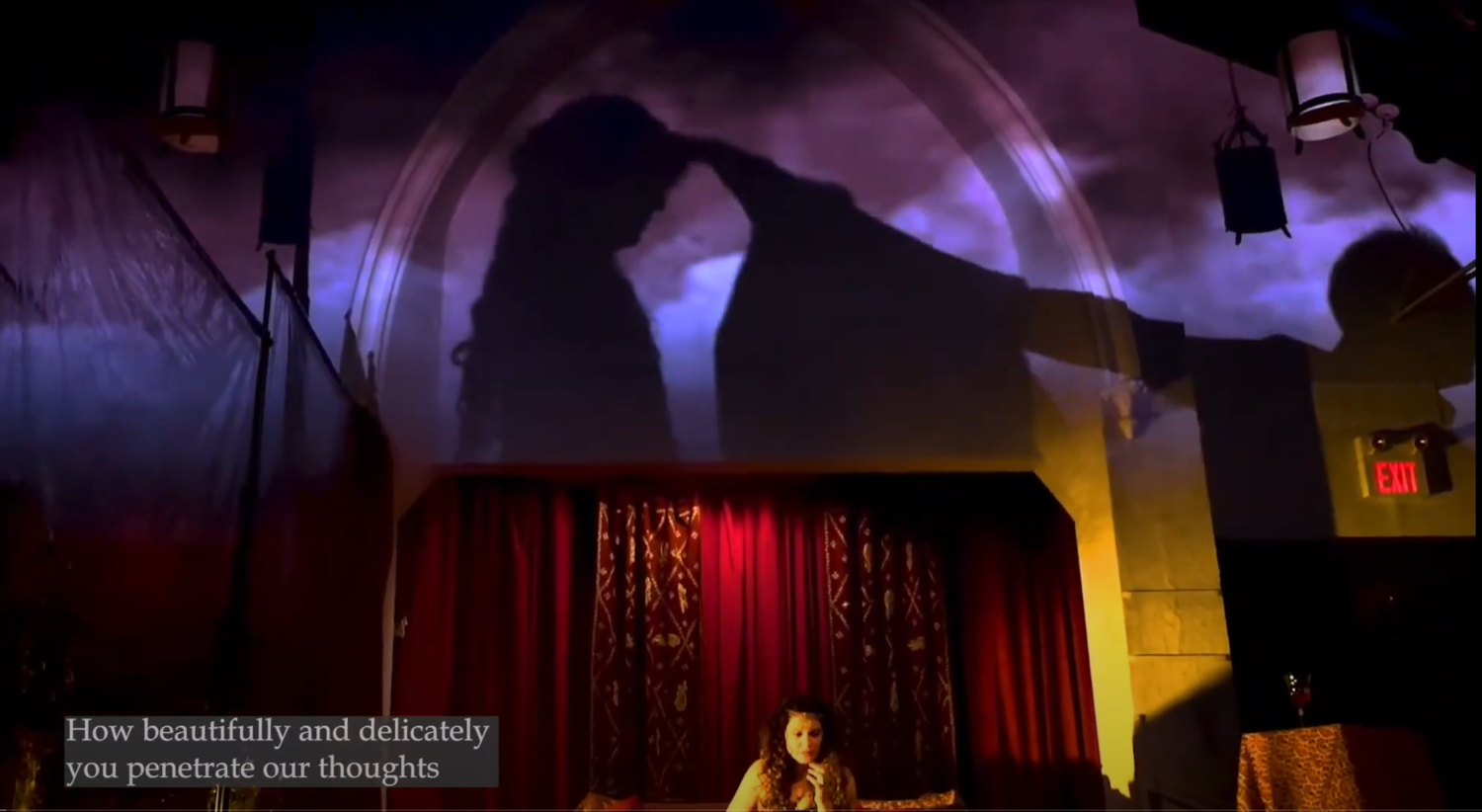 Zuleykha is Afarin Mansouri's first Farsi language opera-film series exploring the inner spiritual journey of the biblical character of Zuleykha, otherwise known as Potiphar's wife and the attempted seducer of the prophet Joseph. Contrary to the traditional depictions of Zuleykha (Miriam Kahlil) as a sinner, Mansouri's version understands her choices in conversation with the challenges of navigating love and devotion within a patriarchal society. The presented chapter titled There is a Pain illustrates her obsession with Joseph as a desire for self-exploration and a longing to be embraced by a higher power, using the trick of the light (shadows, projections, ambient scenography) to evoke the foundation and condition of her internal conflict. Zuleykha offers a narrative focus that might otherwise be lost onstage by fusing the aesthetic styles of opera and film, drawing attention to the intimate movements and moments of her interiority. Subtitling the stage directions enhanced the world-building, and the auditory presence of the chorus reflects the community she is called to in spite of the reality of the bodies that cannot be there. A combination of history and fiction, Zuleykha invites the audience to embark on their own reflections of strength, spirituality, and self-acceptance.
URSA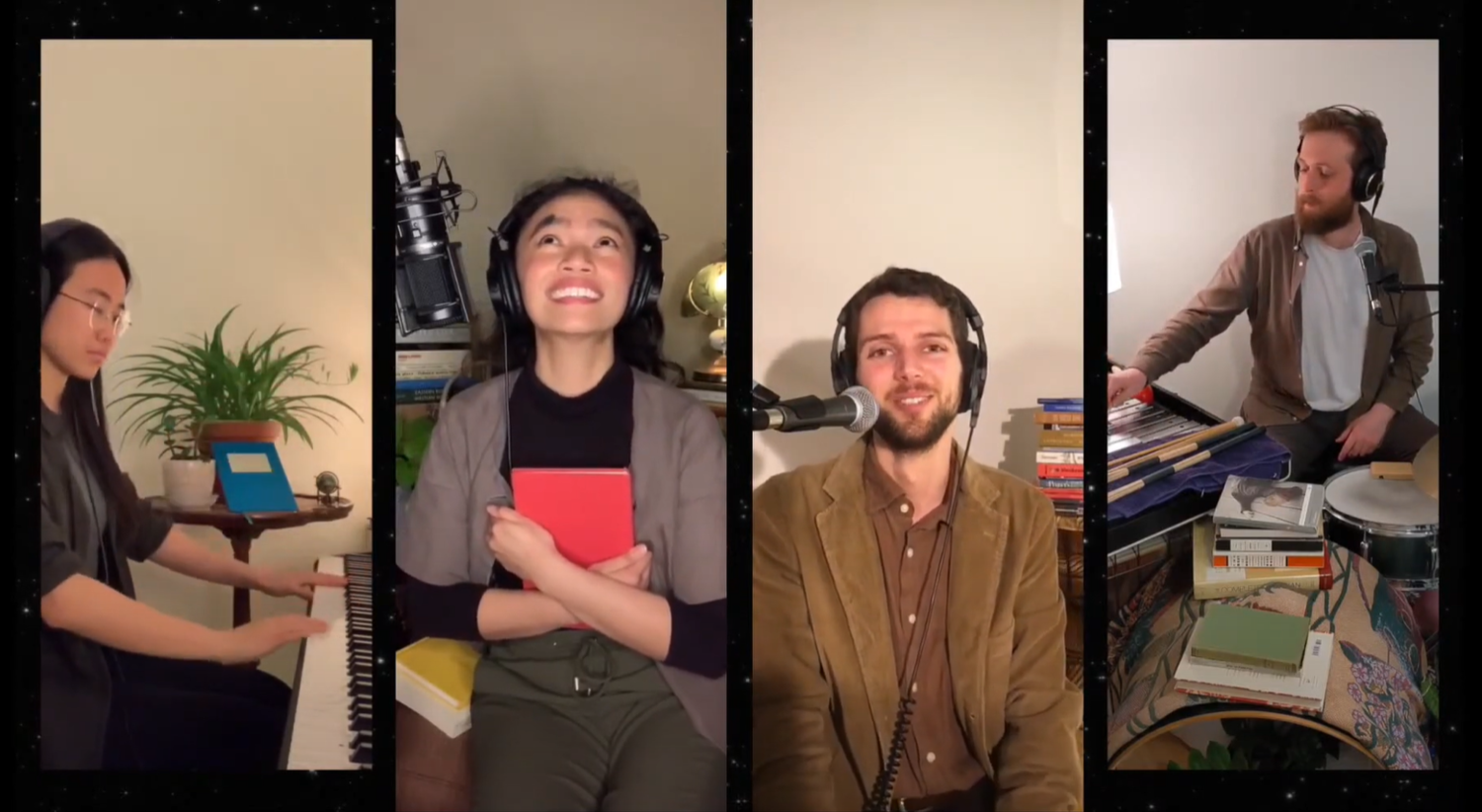 Sam Boer and Jake Schindler's Ursa is a folk musical about a young girl named Ursa (Belinda Corpuz) who leaves home looking for adventure, and a lone bear who yearns the company of another like him. The two spark an immediate friendship the moment they meet in the woods, seeking to help the other fulfill their deepest desires. As a work in progress, the audience is not being served a final product of Ursa, but rather a presentation of what the musical has to offer. Compiling the individual recordings of the four performers simultaneously on the same screen was a constructive demonstration of the project's mechanics. While the team's musical arrangement and technique shows promise, the story itself could be further developed by creating more of a contrast between the two characters. The fundamental difference between Ursa and Bear that they must eventually acknowledge should be more explicit, and a stronger implementation of the folkloric genre could provide the dynamism the narrative calls for. Overall, Ursa is a curious and contemporary take on how to fight loneliness as we come of age.
PULSE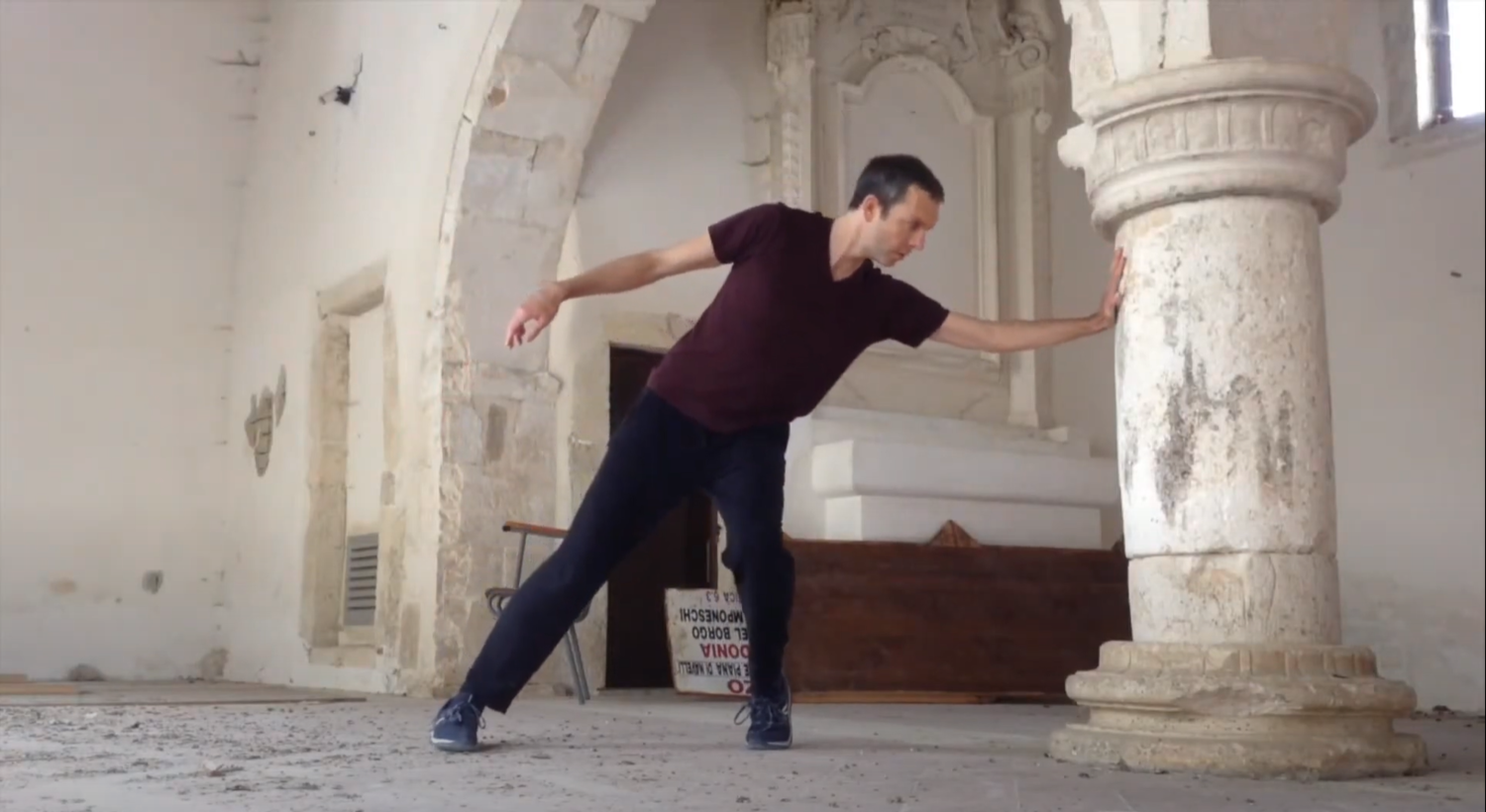 Upon moving to Capestrano in 2019 (a town in Abruzzo, Italy), performer and choreographer Kevin Skelton gained a "heightened desire for deeper connections with the community". Pulse emerged from an aim to reconnect local communities through singing and dancing in restored spaces that were devastated by an earthquake ten years before his arrival. Interweaving themes of hope and recovery, Skelton maintained the overall structure of the live performance in his audio-visual adaptation, drawing attention to the rhythmic parallels of experiencing music and the human heart at rest. He moves through the town scored by a choral composition which evokes the feeling of community without needing to be visually depicted, his body becoming an individual beacon for a collection of stories, memories, and feelings. Video editing allows him to draw attention to the intricate details of Capestrano's buildings, all designed, constructed, and restored by its people. Through observations of the spaces we create for ourselves, Skelton asks us to reflect on the ways people stick together in times of turmoil: What do we wish to save, or preserve? What have we lost? What do we agree is 'important'? Pulse follows a universal impulse with unique execution on Skelton's part, and will be a "continual work in progress that will evolve with him…in the near and distant future."
SEEDS OF NAMWAYUT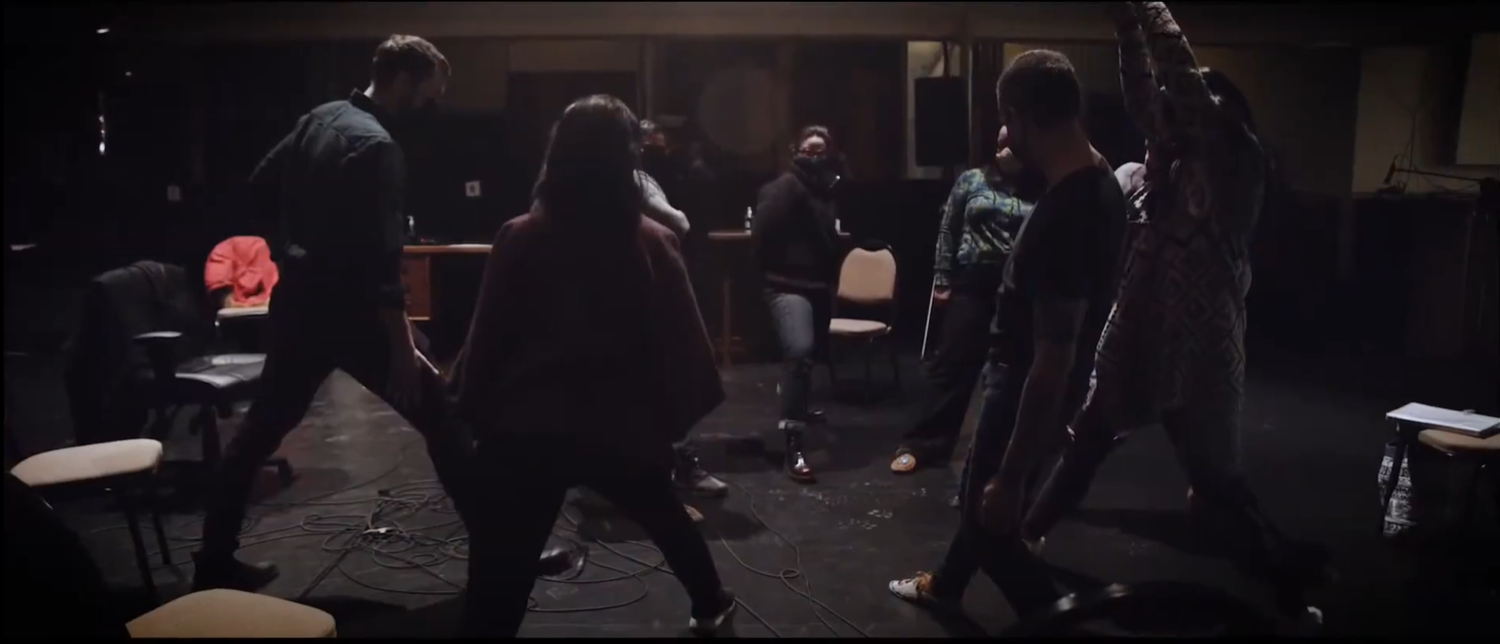 Four singers, two composers, a pianist, a stage manager, and a librettist walk into a room…and get their temperature taken. The short film by Calgary Opera and Pluto Pictures offers a deep-dive into the creation of Seeds of Namwayut, an opera celebrating Indigenous resilience beyond trauma and towards joy. It's a story about a girl named Ella as she is learning about the medicine, plants, and other beings within her environment. Gifted with a vision that foresees a future of colonization and a fatal loss of culture and community, she is called to move through time in order to remind us that the culture is in the land, and that the land is something we are always apart of as well. Exploring storytelling that takes place outside what's normal, this project started with the artistic impulse of mezzo-soprano/dramaturg Marion Newman to conceptualize and create an opera under Indigenous leadership that was completely different from what the team was used to. Composer Ian Cusson notes how Newman "pitched this project as a way of rethinking and reimagining how we make." Everyone was called to participate in the design of the story, themes, or music despite their manner of involvement. Unlike the inorganic Western tradition, what people brought to the table was rooted in responsibility rather than hierarchy.
Namwayut is a word in Kwak'wala—the language of the Kwakwaka'wakw peoples from northern Vancouver Island, nearby smaller islands and the adjacent BC mainland—meaning "we are all one". In the same breath, this presentation of Namwayut chose to focus on what each artist saw in the project, what their contributions were, how they collaborated together, and what they took away from the experience. The film also offered an interesting insight on artistic practice and collaboration during a pandemic, demonstrating both the physical and social adaptations for health and safety. Theatre is still treated as an individual practice where it's collaborative, but rarely collective. However, Namwayut provides an example of the kinds of artistic exchange that can occur when 'professionalism' and the demands of participation reflect the values and beliefs of that particular community rather than an individual. Newman reveals, "What's different about this is that it doesn't feel like a fight. It feels like coming home."
The New Works Showcase was apart of the Watershed Festival which ran May 25-28, 2021. Presented by the DAN School of Drama and Music, the inaugural festival examines the integration of music, drama, dance, and design as musical theatre or opera.