Sourdough at the Spire: Activist Puppeteers to Visit Kingston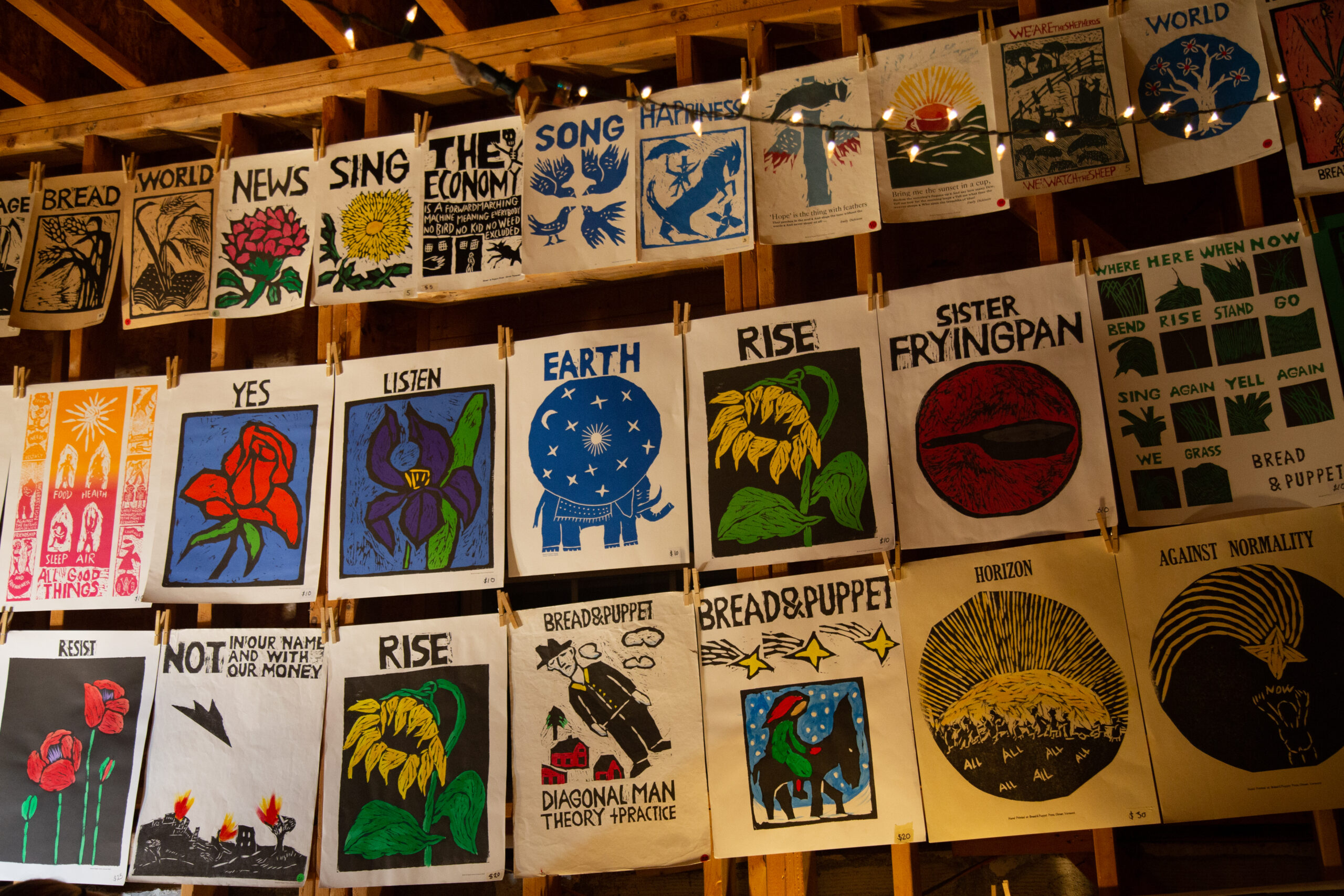 Bread and Puppet Theater is one of the oldest nonprofit political theatre companies in the United States. Currently based in Vermont, Bread and Puppet is famous for its distinctive visual style and commitment to thought-provoking conversations—as well as its practice of sharing homemade sourdough bread with its audiences.
Bread and Puppet's latest show, Inflammatory Earthling Rants With Help From Kropotkin, toured the northeastern United States this spring. As they gear up for a fall tour—with stops in Canada that include Kingston's The Spire on November 10th—inflammatory earthlings Ziggy Bird and Paul Bedard made some time to speak with me about Bread and Puppet's process and ethos.
This interview has been edited for length and clarity.
Could you speak a bit to the process of creating this show and this tour?
ZB: The process of creating work at Bread and Puppet is nonlinear. Typically, puppeteers will gather in a room with our director, Peter Schumann, who has been directing the theatre for its entire 60 years. Sometimes we bring forward a tableau of imagery that we're excited about working with, or sometimes there's a specific text that is brought. And we kind of just start all in one room together, throwing those things together, trying different things out. A script is created after the show is done being made—we've never walked into a show with a script.
So it kind of develops organically with everyone's different ideas or perspectives that they have. Of course, we're a political theatre company, so we're drawing on whatever is happening in the world at the moment, and that informs our decisions as we create.
PB: It's also really iterative. This show toured in the past spring, and it went really well. So we were like, let's do it again, and go to different places this time. So we all re-gathered and on the first day, our director said, you know, the show is already perfect. So now we have to imperfect it. So day one was like, turning it upside down, cutting half of it, and trying to recreate it for this moment. Because the past moment won't do.
I was wondering if you could talk about the company's community-building process of bringing bread and having that shared food experience as part of your work?
ZB: Totally. Well, Peter has told me that he wanted to start doing puppet shows in New York as a way to get rid of the bread he was already baking. I don't know exactly how true that is. But I think that the bread is more important than the puppets, really, which is why it's Bread and Puppet and not Puppet and Bread.
I think the act of breaking bread together after watching something is what helps to define what we're making, and differentiates the political theatre that we're making. We are opening a discussion with people that watch the show, and we're all eating bread together. It's also a reminder that, just as much as bread feeds you, art is also feeding you and feeding your soul. I don't know if you know much about the bread, but it's a sourdough starter that's over 150 years old, and it gets served after every single performance that the theatre does.
That's awesome. I love the possibility for 'culture' wordplay there—a sourdough starter being this ongoing culture, and then you're disseminating this theatrical culture. I was wondering, how do you find being in different spaces has changed and helped you imperfect the show?
PB: We play in a variety of spaces. Sometimes they are proper theatres, but a lot of times they are churches, or former churches. We also play a lot of union halls, schools— gymnasiums are great. We need space for the puppets, space for the people, darkness is helpful.
The thing that I find really exciting is that every space comes with its own quirks. And that is an opportunity to adjust the show. Churches, for example, tend to have a lot more width than they do depth. So although we have an idea of the staging of the show, we have to redo a number of scenes to make it fit. Or sometimes we're in a space that has a balcony that is just too irresistible. Something has to go on that balcony, what are we gonna put up there? We played one space that had a pipe organ that was controllable from the backstage. And we were like, okay, we're adding pipe organ to the show. So the show does have its structure, but it's designed to be flexible to the spaces that we're going to.
I think the Spire is going to be an exciting one for that, because it's this magnificent, huge, tall space. I look forward to seeing how you use it.
PB: We're excited to come to Kingston. We don't have the best record keeping, but we asked around, and we believe that the last time Bread and Puppet was in Kingston was 2014, so it's been a while since we've been here.
We're excited to have you. Before we go, is there anything else you'd like to add?
PB: Financial accessibility is a big priority of the company. So although tickets are for sale, the cost should not be a barrier to anyone. Anyone is welcome to email us at breadandpuppettour@gmail.com and we'll set them up with a ticket.
Bread and Puppet Theater's 'Inflammatory Earthling Rants With Help From Kropotkin' plays at The Spire on November 10th, 2023. Tickets are available here.
This article was edited on December 1st, 2023 to update formatting.