'These Deeds': A Masterclass in Staging Historical Fiction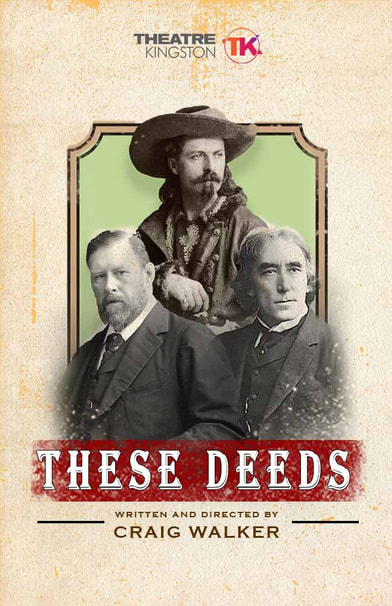 Craig Walker's These Deeds is one of those shows that feels rewarding as you watch it. Historical fiction as a genre has this charming quality about it—ever feel "in" on the plot when a historical figure pops up in a Tarantino movie? That feeling is what Walker is able to draw out of the audience.
The play follows Walker's fictional characterizations of author Bram Stoker (George Masswohl), actor Sir Henry Irving (Richard Sheridan), and showman Buffalo Bill Cody (Sean Roberts) one night after a performance of Macbeth. The show begins with Irving's harsh criticism of Stoker's new play, tentatively titled The Undead, most likely familiar to all as an early draft of Dracula (this is merely the first of these little "rewards" we receive as an audience). The conversation between Irving and Stoker paints a picture of Stoker before Dracula, when he was a theatre manager and lackey for Irving. The drama continues as American-Western star Buffalo Bill Cody pays a visit to his English mates and Masonic brothers. As the drinks add up, secrets, accusations, and betrayal make up the remaining action on the stage. Not wanting to give away the gambit that made this show so engaging, this is the synopsis I will leave you with: Wounded Knee, Jack the Ripper, and Lady M. 
Undertaking the formidable role of writer/director, Craig Walker takes this show as an opportunity to deliver what feels like a well-developed and exceedingly professional passion project. The focus of the direction seems to be on the relational dynamics between the three men. Walker builds tension and plot through these unique dynamics with the characters, thus creating a kind of spiralling feeling as the show continues. The writing lends itself to this as the night goes on and the men open up to one another about their pasts.
The chemistry between Masswohl's Stoker and Sheridan's Irving was especially intriguing. Stoker being a kind of quiet lap dog to Irving's bright star. A flip on what the modern audience knows to be true about the men's legacies (Stoker having more recognized fame), it was used not only for comedic effect but to further our understanding of where in their lives we are meeting these men. A huge part of why this flipped dynamic is so successful is a result of George Masswohl's stellar performance. He is so sympathetic and genuine—I found myself wanting to know more about the actual Bram Stoker (someone I know nothing about and previously did not care about even slightly. I cannot stress how little I thought about Bram Stoker before this).
Special mention must be given to Andrea Robertson Walker for the set and costume design. The only word to think of upon seeing Walker's work is opulence. Not an inch of the stage is ignored in Walker's work; rich maroons, golds, burgundy, and mahogany effectively communicate to the audience time and place. Furthermore, the costuming speaks to the set, telling us who belongs and who is an interloper through colour and material.
Each of the players are dressed in a way that seems to serve their physicality as well as their character. Robertson's costuming seamlessly adds a level of realism to each actor's performance. So often in costuming, the clothes wear the actor, but Walker found the sweet spot between each actor and their character that created a lived in and tactile feeling for every performer. I would argue with anyone that the work Walker turned out for this show is worthy of any award you can throw at it.
There is one obvious critique to make about the play: do we need another show about old, white men arguing? Probably not, but if you're intent on seeing one, let it be this one. In his writing it seems Walker is acutely aware that this format isn't as popular with audiences as it once was. What makes this show stand out is the content of the conversation. It often speaks to issues of Indigenous rights that are perennially present in society, which lends to the air of awareness the show has.
He also uses the genre to explore the historical events and contexts that have plagued Indigenous people's fight for equal rights in a way that feels like it's trying to inform the audience. Considering the audience was mostly white, seemingly upper middle class theatre lovers, this choice to have a little history lesson in the show felt like a case of Walker speaking directly to us—the viewers. And I didn't mind it. The work was so engaging and made with such care that I was happy to feel like the playwright was reaching out to the audience directly. If you are looking to leave this review with something, let it be this: These Deeds is a show you want to see. 

'These Deeds' will be playing at The Grand Theatre through November 19, 2022. You can purchase tickets here.