Don't Sleep on Queens Theatre Troupe's 'Life Is A Dream'
Segismund (Trevor Procyk) has spent his entire life imprisoned in a cell by his father, King Basilius (Emma Smyth). Now, Basilius has decided to let him live in the palace as a prince—but if anything goes wrong, Segismund will be sent back to his cell and told that it was all a dream. Trippy, right?
Life Is A Dream (Spanish: La vida es sueño) is a play from the Spanish Golden Age by Pedro Calderón de la Barca, translated into English by Denis Florence MacCarthy in 1873. Adapted and directed by Elsa McKnight with dramaturgy by Kyra Mevis, Queens Theatre Troupe has transformed this centuries-old religious drama into a gleeful postmodern romp exploring narrative and identity.
The play's three acts are each presented in a distinct theatrical style, offering regular shifts in tone which keep the pace afloat and allow the troupe to show off their diverse strengths. What begins as a traditional stage play (drawing heavily from MacCarthy's translation) slowly morphs into metafictional mayhem—but it's controlled mayhem, full of genuinely surprising moments.
Kate Megginson's lucid portrayal of prison warden Clotaldo stands out as a compelling dramatic performance. Meanwhile, Iulia Rus and Elise Wight have a fantastically fun dynamic as royal cousins Astolfo and Estrella, moving from comic relief to more complex emotions as the story unfolds. Throughout the show, Zoe Compson appears as the acerbic yet charming Clarin, an archetypal fool character who comments on the action while participating—albeit sometimes reluctantly—in the plot. Clarin is an important conduit between the audience and the story, and Compson brings an electric energy to the role that drew both laughter and rapt attention at the Tuesday night preview.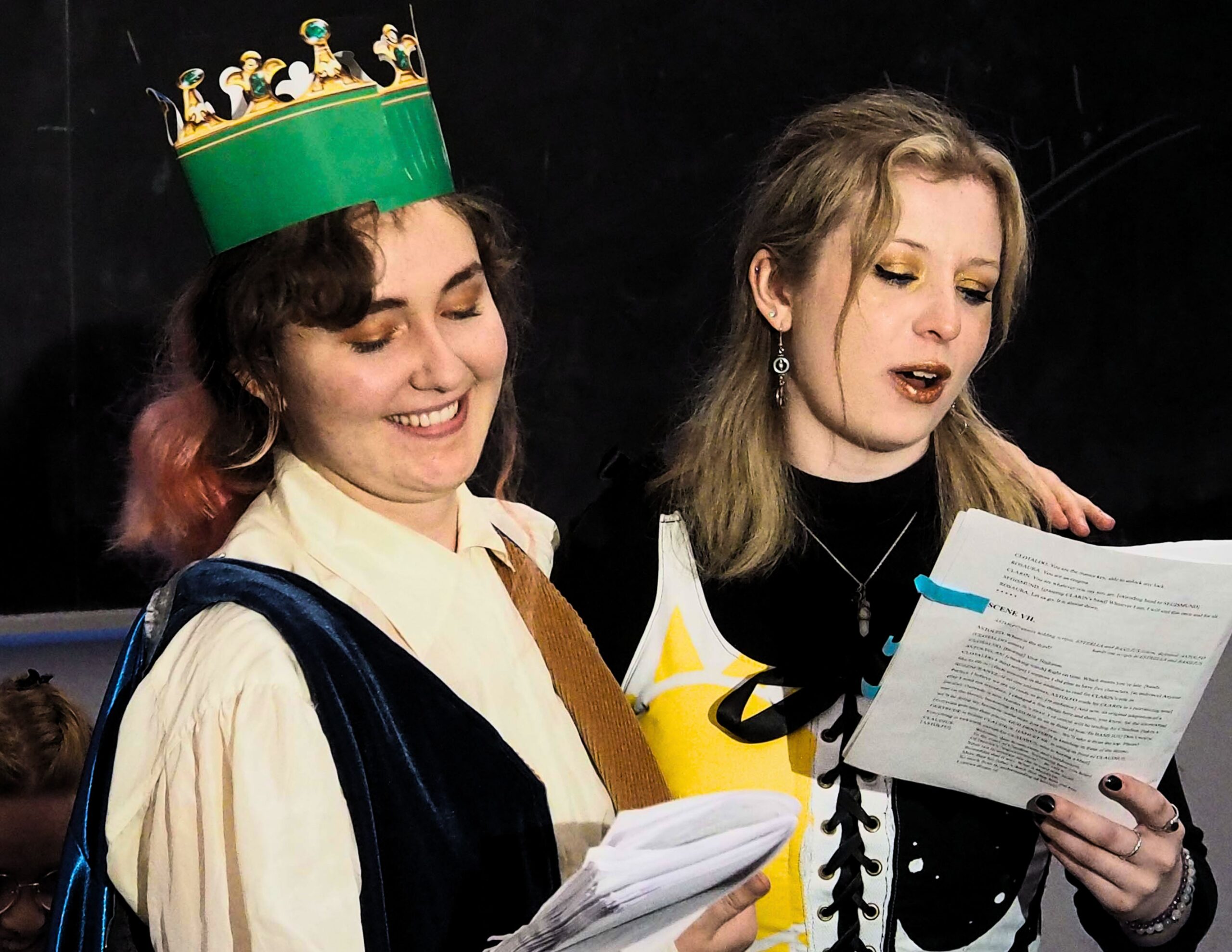 McKnight's unpretentious, tongue-in-cheek writing is bolstered by direction that takes full advantage of Theological Hall's seminar room-turned-theatre. Kathleen Greening's lighting design features an old-fashioned overhead projector, LED light strips, and an ambient lamp that I can only describe as 'Instagram groovy'. A heavy dose of late 60s/early 70s psychedelic music is featured throughout the show and in the pre-show and intermission playlist (sound design by Jonas Jacobson), putting the audience in a dreamlike trance.
Costume designer Carolyn Moeller has come up with some gorgeous and inventive pieces, including a breathtaking hoop skirt with golden stars for the aptly-named Estrella. Where resources are limited, Life Is A Dream revels in low-budget glory—the King wears a paper crown from Medieval Times (the theme restaurant, not the era), which gives an additional comic touch to the characters' struggle for power.
Life Is A Dream is a strong debut for Queens Theatre Troupe—it's funny, it's creative, and it pays playful homage to a canonical text while pushing it into new territory. It's everything I love about student theatre, and I hope to see more from this lively troupe of dreamers in the future.
Queens Theatre Troupe presents 'Life is a Dream' in Theological Hall room 102 until Sunday, October 29th, 2023. Tickets are available here. 
This article was edited on December 1st, 2023 to update formatting.