DSS: Remote Reveries Creates Innovative and Daring Theatre (Virtually) !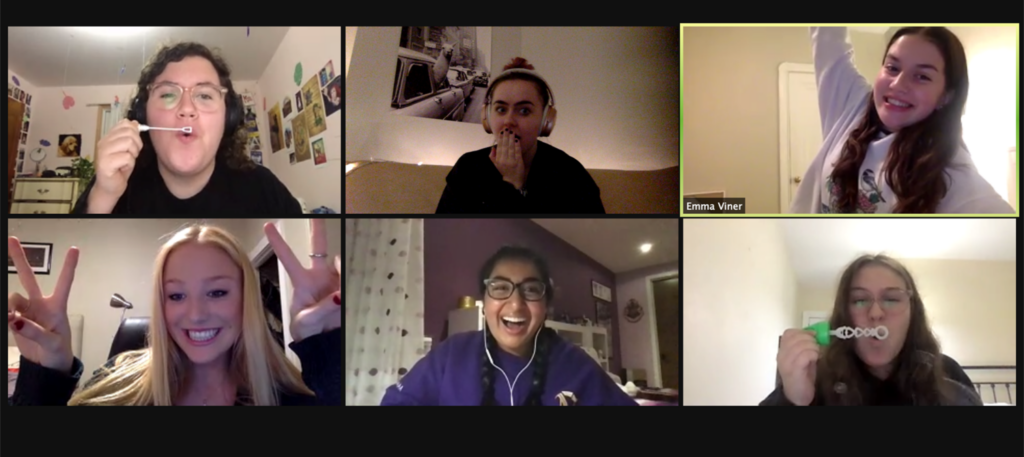 DSS, a long-running staple of the Queen's University theatre scene, is a collection of short plays entirely written, directed and performed by Queen's Students. Typically, the performance consists of four different theatre pieces. When I first heard that DSS was going virtual, I was ecstatic. I had an inkling that the theatre group that was already known for their innovative and boundary-pushing theatre in a pre-COVID world would be able to adapt to these unimaginable circumstances in inventive ways. Not only did they achieve this, but they were able to exceed all expectations.
The four shows presented by DSS: Remote Reveries were a unique combination of different mediums: filmed theatre, short films and radio dramas with visuals. The show, which was produced by Caroline Anber and Mary Tooley, also presented an incredibly thorough and profound land acknowledgement before the show started. In fact, the producers stated that all surplus profits from the show will be allocated to support Indian Residential School Survivors Society, which according to producers Caroline Anber and Mary Tooley works to " provide essential services to residential school survivors, their families and those dealing with intergenerational trauma." The mere presence these unique combinations of visuals allowed the viewers to never grow too comfortable within one medium, but also allowed DSS to show us what type of art and entertainment could be possible in the age of COVID.
The first performance that was presented was Connected, written by Annie McBrien and Amy Newnham and directed by Emma Viner and Mattea Sharp. This light-hearted and coming of age story that felt like a perfect half-way between a short film and filmed theatre, illustrates the life of a high school senior, played by Maysaa Alikhan as she interviews friends, crushes and teachers in order to put together her high school yearbook, all for the purpose of the coveted extra-curricular resume item. While Alikhan was able to carry the performance with enthusiasm portraying the Grade 12 keener we've all had to deal with (think Rachel Berry in Glee), the real highlight of the show was Hamish Hutchinson-Poyntz as Mr. Winkler, an overly passionate teacher. Mr. Winkler reminded us of the oddly lovable high school teacher that was way too passionate about their work. Hamish was able to perform with such a strong characterization, both in terms of physicality and vocal inflection that I was biting my lip trying not to laugh throughout his entire scene. The ending of the performance could not have been more fitting: an actual filmed video of the high school yearbook. Not only did this evoke strong nostalgia from its viewers, it also proved how unlimited the possibilities are with virtual theatre. A perfect sense of escapism and feel-good energy for 2020, Connected was definitely a highlight of DSS: Remote Reveries.
The next performance that I witnessed was Of Kings and Cardboard, written by Nate Ives and directed by Eric Rodomar and Chanel Sheridan. Immediately, I was impressed with how dedicated this performance was to adhering to the idea of filmed theatre. An actual set was created, with clear costumes and staging, easily making this performance the most theatrical of the four. The piece tells the story of the protagonist, The Ruler, played by Emily Lostracco trapped in her basement. However, The Ruler is never truly alone as her Journal–personified by Owen Boucher and Danny Devito, and played by Rayan Rahal–acts as characters throughout the piece. I loved how this piece was able to explore the feelings of loneliness and isolation that we're all experiencing to some degree, without directly setting the piece in the COVID-19 era. My criticisms of this piece were quite minor. I felt that the transitions from scene to scene were somewhat slow, although I assume this was more of a technical issue, rather than an artistic choice. As well, while at times the Danny Devito joke worked exceptionally well, at other moments, it felt like overkill. I also loved the costuming of the Journal in neutral whites with a black vest, a perfect approach in personifying him. Overall, I enjoyed the theatricality of this piece and appreciated the way it was able to approach such universal feelings of loneliness and isolation in such a covert way!
The show then paused for a 15 minute intermission with various skits by the producers impersonating each other. The show then proceeded with Fey, written by Jack Burnham and directed by Molly Cooney and Jacob Loat. Only last week, I reviewed Burnham's other piece Children of Thomas for The Shortwave Theatre Festival. Burnham clearly has an affinity for sci-fi and the concept of the unknown and unfamiliar, as it is apparent throughout his work. While I thoroughly enjoyed the voice-over performances from the cast, I was slightly perplexed as to the medium itself. In essence, Fey was a series of images, beautifully designed by Isabelle Ma that would last for a few minutes at a time, with audio on-top. While radio dramas as a medium are quite effective, I felt that having the images distracted me from fully immersing myself into the audio. As well, since there were few images, I found myself getting bored staring at the same image for prolonged periods of time. Having said this, despite the limitations of the chosen medium, I appreciated the themes of the show. Fey deals with Eric, a government scientist, recounting his stories from prison where he was caught for attempting to create a weapon that would bring about everlasting peace. Similar to Of Kings and Cardboard, I appreciated how the piece was able to relay ideas around relevant themes such as government secrecy and sacrifice for change. Overall, despite my slight criticism over the chosen medium, I highly enjoyed the writing of the show and the strong voice-over performances that it was able to portray!
The final performance that I was privileged to watch was Unmuted, written by Katie Creelman and directed by Izzy Federgreen. Immediately, I noticed how this play was incredibly well-written and I eagerly anticipate the next of Creelman's works. Unmuted tells the story of four art history students as they slowly discover and process a piece of art history that doesn't fall into the canon of white, heteroseuxal and Euro-centric art that the students are so profusely accustomed to. The piece presents such a universal theme of whitewashing throughout history and underrepresentation of marginalized voices that we should all be reckoning with in 2020. It deals with the historiography of art itself: what does it mean to understand history when we're only dealing with half the story? While the entire cast displayed distinct characters with strong performances, Patrick Watson as James was a highlight for me. He absolutely nailed the art history student character while performing with such depth in dealing with a matter that can arise complicated emotions from us. I also thoroughly enjoyed how Federgreen decided to have the two art subjects take over the virtual screen for the audience during the flashbacks to their scenes: it felt like a brilliant solution to a potentially logistically challenging artistic decision. Overall, Unmuted was such a delight to watch and presented Creelman as a talented emerging playwright!
I applaud the entire DSS: Remote Reveries team for such a collaborative, innovative and entertaining production. It definitely proved how virtual theatre is by no means limiting, but rather a site of possibilities and opportunities. I hope performances like these can inspire other local theatre practitioners to expand our notions of what is possible in an age of Virtual Theatre.
Ticket Information: https://danstudioseries.ticketleap.com/dss-remote-reveries/?fbclid=IwAR1WbvNk49WpnIpbNlXpDbOIllhKetskGTYJ5UT3cy6Ib7_7ThKMrdyKzx4