Heartbreakingly Beautiful, 'Once'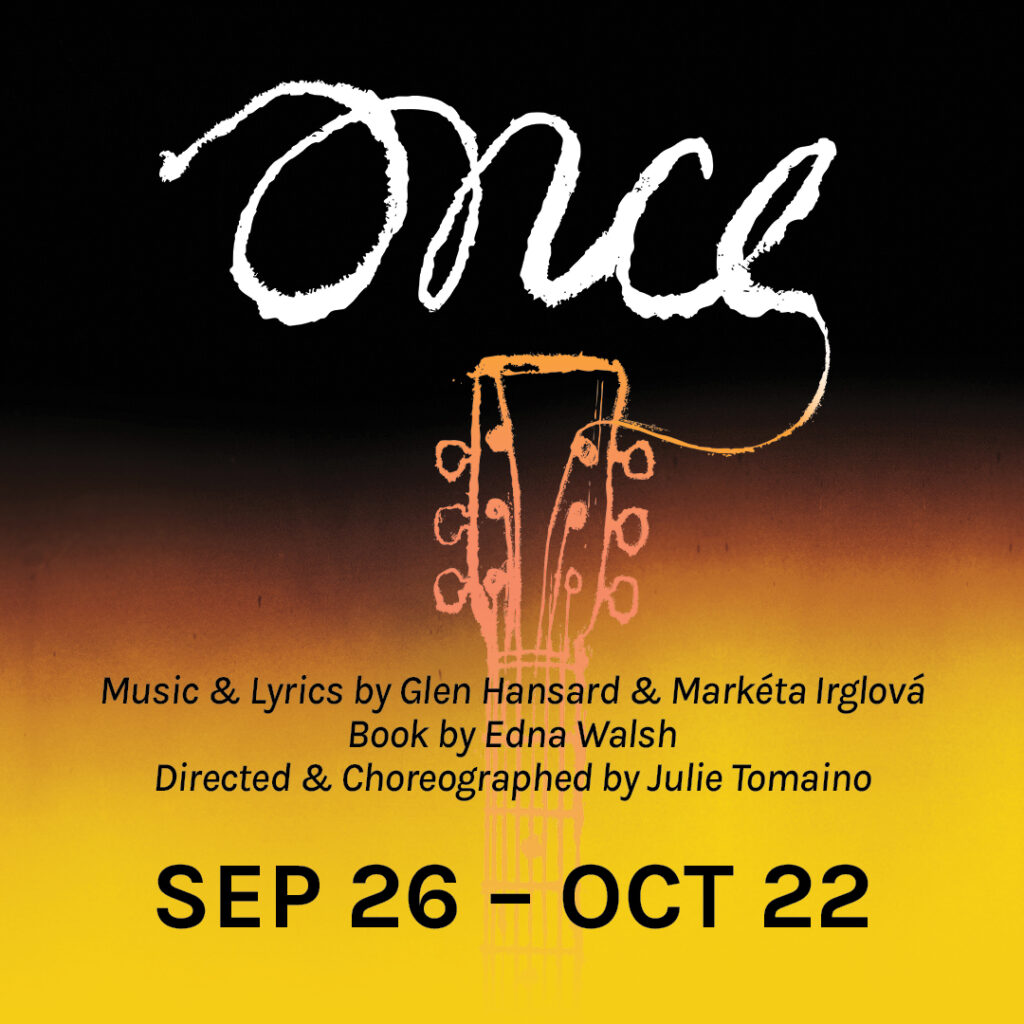 Have you ever had a once-in-a-lifetime encounter with someone? Did they have such an impact that it changed the course of your life forever? Once is a Tony Award Winning Musical based on the 2007 Oscarwinning film of the same name. In its opening, we are introduced to an unnamed struggling Dublin musician portrayed by Tyler Check. On the verge of giving up on music altogether, fate brings him to meet an also unnamed Czech woman portrayed by Melissa Mackenzie who shows an interest in his beautifully heartbroken music. Through this bittersweet musical we follow their relationship as they learn more about themselves through each other. It is heartbreaking yet uplifting and moved me in a way that is hard to explain.
Check and Mackenzie are incredible as the unnamed protagonists. The opening number, "Leave", performed by Check has him commanding the stage. His raw vocal and emotional performance took my breath away and had me hooked from the get-go. This is preceded by a beautiful duet, "Falling Slowly" (which is my personal favourite song). Check and Mackenzie are able to flawlessly perform this stunning ballad, showcasing the start of their blossoming relationship. The chemistry they portray is incredible and I was fully invested from this point on. Other cast members are also phenomenal. There is no orchestra or band as each cast member, along with playing a character, also plays an instrument and does so flawlessly.
Before the show starts, one of the performers, Haneul Yi, is onstage playing his guitar and singing popular songs—sort of busking before the show begins. He cracks jokes and gets the audience involved which helps to ease into the show and is very entertaining. It is also a great contrast to Check's character who an audience sees merely moments after. Yi is portrayed to be a happy busker loving what he is doing, while Check depicts a man on the verge of quitting music, unsatisfied with his life.
I love how the story emphasizes characters over plot. The scope of the story is small—it only follows a couple characters through a handful of days in Dublin. Because of this small scope, audiences can concentrate more on the characters. Many plays or films emphasize plot points to drive the story which creates one dimensional characters or makes them do unrealistic actions to reach these plot points. This story was not like that as it emphasizes character relationships to drive the plot forward. Through its two and a half hour runtime, viewers get to understand these flawed characters deeply, even the minor ones. The ending hit me very hard as I felt I knew the characters like a friend from getting to know their inner struggles and triumphs so well. I also adored the contrast of the audience becoming intimately familiar with these characters while also having the two leads' names never revealed. I didn't even notice they were unnamed until writing this review. I found it interesting that even though this vital information of a person's identity is missing, audiences are still capable of understanding them inside and out.
The music by Glen Hansard & Markéta Irglová is very well written and orchestrated. Each lyric is sung incredibly by every member of the cast. I am currently listening to the Broadway soundtrack while writing this review and I can confidently say they are as talented as the Broadway cast (which is a massive statement). The songs are all fantastic while also not overpowering the story. They are complimentary in a way that enhances the story without detracting from it. The songs are used to display what the characters are internally feeling or to strengthen relationships and not just for needless fun.
I am somewhat biassed as I love songs emphasizing guitars and this musical has every different type of stringed instrument I could think of and then some. There is a beautiful melodic theme that is consistent throughout the musical which I cannot get out of my head… In a good way. The music is also modern but does not shy away from its Irish roots or even its Czech roots. It embraces them both.
As you can probably tell, I loved Once. With fantastic music and a very character driven plot, it enthralled me the whole way through while playing with my emotions… In a good way. Check, Mackenzie, and the rest of the cast are all astounding in their own right with mesmerizing voices and are all stellar musicians. I would say this is a must see for anyone craving a fun and entertaining night at the theatre.
'Once' is playing at the Thousand Islands Playhouse until October 22, 2023 and more information can be found here.
This article was edited on December 1st, 2023 to update formatting.