Leave your troubles outside: life is a 'Cabaret'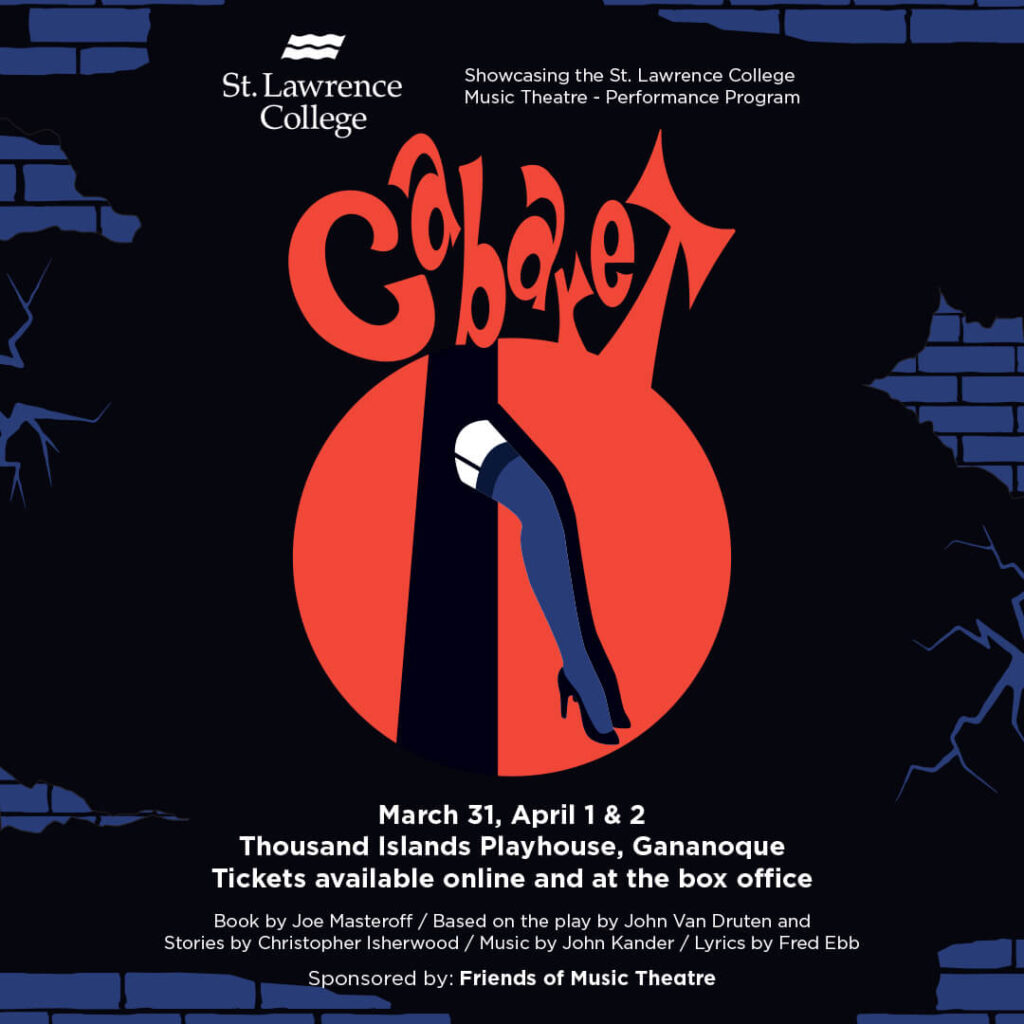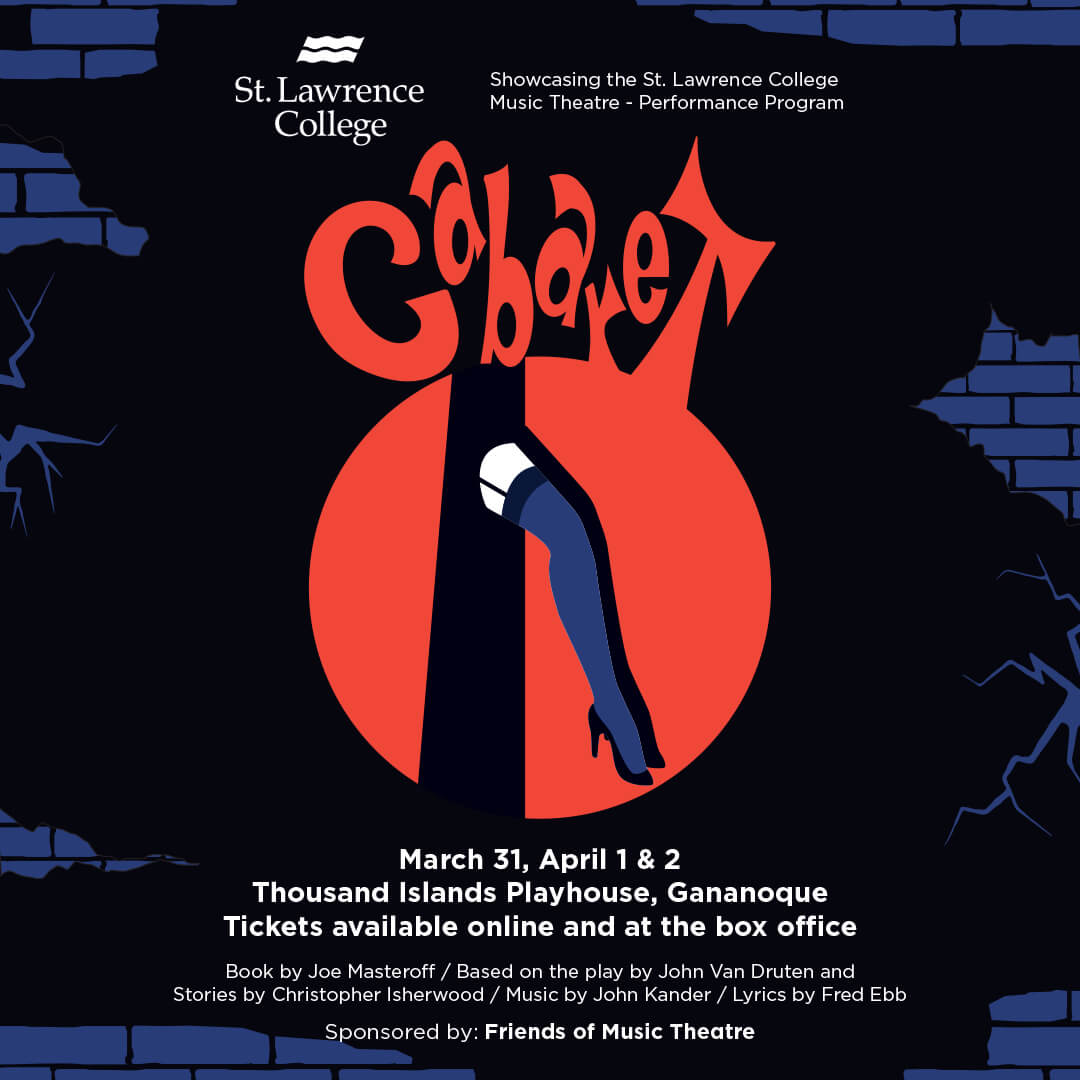 Smoky, sensual, and unsettling—welcome to Cabaret. This weekend, St. Lawrence College, showcasing students from the Music Theatre Performance program, presents the classic musical in all its doomed, debauched glory. Set in interwar Berlin, Joe Masteroff's Cabaret (music by John Kander and lyrics by Fred Ebb) depicts the insidious creep of fascism into everyday life. Based on the play by John Van Drulen, which in turn is based on the work of Christopher Isherwood, Cabaret's story scenes are interspersed with song and dance numbers at the Kit Kat Klub, a seedy nightclub where patrons are told to leave their troubles outside. As the story unfolds, we see a deeply tormented society try desperately to drink, dance, and romance its cares away, all while Germany rapidly succumbs to poisonous political rhetoric. This production, directed by Evan Buliung, features energetic dancing and superb showmanship as it confronts an unravelling world with a mix of impending horror and suffocating glee.
Felipe de Brito plays the Kit Kat Klub's Emcee with zany charm. Stefania D'Amario gives a fabulous performance as down-on-her-luck cabaret star Sally Bowles, bringing killer vocal technique to an iconic role. Sally's emotions, especially joy, come through spectacularly in D'Amario's singing.
Early in the play, Sally meets American author Cliff Bradshaw (Gael Salas) and convinces him to let her stay in his small boarding room. As Cliff, Salas offers warmth, vulnerability, and a palpable sense of sadness. Katie Irvine and Joey Harvey are memorable as boarding house proprietress Fräulein Schneider and her suitor, the local grocer Herr Schultz. Irvine's lower vocal register is gorgeous and she embodies the hesitant and world-weary Schneider beautifully. Meanwhile, Harvey's portrayal of Schultz is full of tenderness and steadfast optimism.
The Kit Kat Girls—the club's performers—are fantastic, with outstanding dance performances by Lauren Scott and Allie Sieben as Trixie and Dixie. Alexandra Herzog's choreography is delightfully raunchy and reminiscent of Bob Fosse's work in the 1972 film. In some scene transitions, the performers flirt directly with front row audience members. Cabaret has always leaned into sexual fluidity, and this production plays with gender as well by casting women in some of the roles traditionally played by men. Kate Megginson is compelling as the secretive Fräulein Ludwig, and Paige Tower gives strong performances as sleazy club owner Max and as a sailor soliciting sex from Fräulein Kost (Jackie Vandenhoff). Speaking of Fräulein Kost, Vandenhoff has one of the better German accents in the cast, and she performs the German verse in "Married" with impressively clear pronunciation.
Working in the Thousand Islands Playhouse's Firehall Theatre, Buliung uses its balcony and spiral staircase to deftly overlap cabaret numbers with story scenes. In some stagings of Cabaret, the musical numbers set in the nightclub feel separate from the other scenes, even though they are thematically linked. This production does an excellent job tying these elements together by having the Emcee appear through a door on the balcony, looming above the action onstage. The set, designed by Mark Hunt, also involves a moving platform that slides on and offstage for quick scene transitions.
The set design for Schultz's fruit shop is especially lovely, and I am a big fan of the pineapple lanterns the ensemble brings out during "It Couldn't Please Me More"—who knew pineapples could be so romantic? Alex Amini's costume design is magnificent and works well with the set designed by Mark Hunt and props designed by Joe Laxton to evoke pre-World War II Germany. Sally wears more dresses than I could count and her outfits are well-chosen to show her ever-changing states of mind. The lighting design by Za Hughes guides the show through the show's many settings and moods—window shadows appear on the floor of Cliff's room, bolder colours and flashing lights streak the nightclub numbers, and a warm, romantic spotlight appears for Schneider and Schultz when they dance together during Fräulein Kost's verse in "Married." Emulating the technology of the period, sound designer Lucas Rudell adds audio effects to actors' voices as they speak into telephones and sing into old-fashioned microphones.
Cabaret is a thought-provoking and gut-wrenching show, and the St. Lawrence College Music Theatre Performance program pulls it off with great style. Whether you're new to the musical or consider it an old chum, I highly recommend coming to Cabaret.
Be sure to check out St. Lawrence College's 'Cabaret' playing in Gananoque until tomorrow, April 2. Find more information here.