Part Two: Playwrights' circle with Sarah Emtage & Shannon Kingston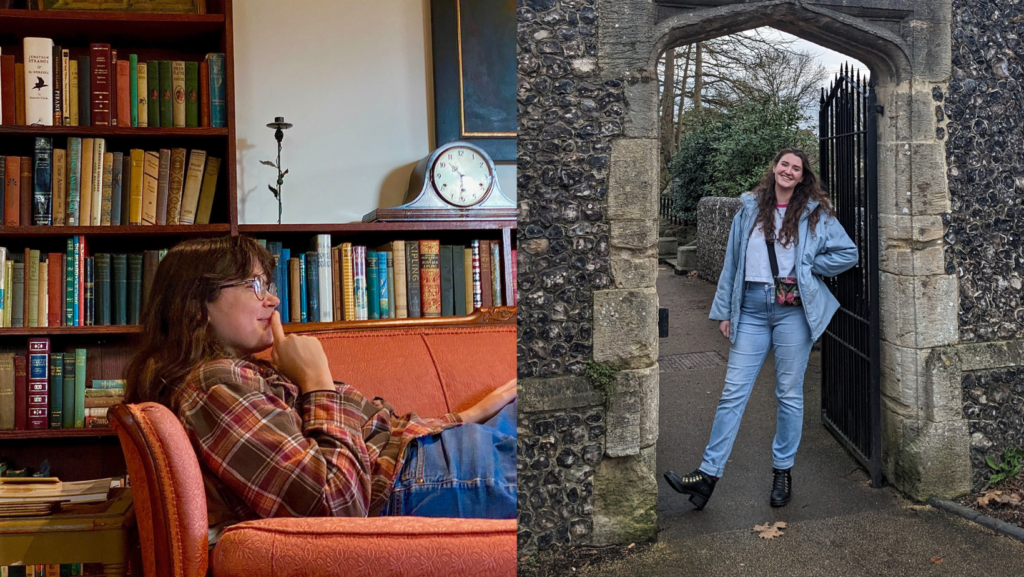 This conversation with Sarah Emtage and Shannon Kingston is the second installment of a two-part interview. To learn more about these playwrights and read the beginning of the interview, click here.
This interview has been edited for length and clarity.
Something that I found interesting about Shortwave 2022 is that the three of us—quite coincidentally, I swear this is the first time we're sitting down as a group—had similar threads running in our plays. I identified friendship, frustration and loss, gardening [in Shannon's and mine], and a certain element of magic. What do you think made these themes timely?
Sarah: I do feel like we're in a time that we especially need gentle media, and hopeful media… So, if you're looking for a reason, I feel like that might be our response to the world in general.
Shannon: I think Sarah's right. When you talk about loss, Haley, it makes me think about grief… [When] I wrote Garden of Edith, I was still experiencing a lot of grief, because of COVID and the pandemic and everything… Certainly for myself, when it comes to gardening, I wrote Through the Fairy Circle because I was nostalgic for this pastoral landscape that I was actively experiencing during the pandemic because I moved back to Kingston… I spent a lot of time in the Belle Park fields and walking over that lovely little river that felt like fairies. I think there's perhaps a shared sense of nostalgia as part of that grief, wanting to be refreshed. We talk about gardening, wanting to grow, wanting to regrow, and a sense of rebirth. These are things that I didn't actually consider when I was writing it, but as you asked me to speak about it, I'm thinking, "yeah, of course that makes sense."
Coming of age stories are something that I keep coming back to. And it's because I think that growing up is so—I don't want to say hard. It's just so big, and it never stops. We continue to grow up.
Sarah, your plays are so lighthearted, but there are really scary moments in different ways. There's a literal battle against a monster. And we also learn about Magellan's family dynamics, and there's also a loss she feels. That really resonated with the way I was writing Lunchtime—that kind of tender moment of understanding between Magellan and Gadget. Like, oh, we're razzing each other a bit. And now we need to be gentler and listen to each other.
Sarah: Yeah. I especially really need that context of something that feels safe and fun and comfortable in order for me to even try to approach anything harder. I hate conflict with every fibre of my being. So for me to write my characters even slightly disagreeing—the amount of conflict they had [in the play] is probably the most I feel like I could do. That was hard for me. Because I relate to each of my characters. I feel like I've put a certain amount of myself into them. And so it feels weird having them be at odds even slightly with each other. But I feel good about where it landed, where you have them trying to work through some stuff a little bit, or face some danger.
Shannon: I find it hard to write interpersonal conflict. Not because I am conflict averse, but because I always tend toward internal conflict. That's just more familiar to me… I'm back in writing classes in school now, and at first I kept getting the feedback that there needs to be more conflict. There needs to be more conflict, more of a climax, this could be more dramatic. And I'm so drama averse, as a person who's like, let's just be nice to each other. Let's just squash this beef right away. And especially since I'm writing for kids, or even for youth, I want to show positive interpersonal relationships. As a writer, you need to balance that with conflict and drama because otherwise the story isn't interesting.
Coming back to internal conflict, I think that's so true for your show, too, Haley. Everyone is going through a change in your show. That's so key to writing drama, too—I want my characters to be in a different place at the end than they were in the beginning. Of course, another option is that they could end up in the same place at the end, right? That's bookending. That's totally a respectable way to write. But I am obsessed with change, I think because I've always been very fearful of change. And Arnold, in my show, she's going through a coming of age too, even as an adult. And I think that all the characters in your shows are, too. Everyone's coming of age.
I want to give a shout out to [Shortwave Festival Director] Mariah (Mo) Horner. Because I found that her feedback was so gracious and so inviting. So, final question: How has Mo Horner changed your life for the better? Discuss.
Sarah: Oh, Mo is amazing. I love her. She approaches giving you ideas or suggestions and stuff [in a way that is] extremely encouraging. An extremely encouraging human being.
Shannon: I'm glad you said that, Haley, because when I was writing the script for Garden of Edith, I was like, (monster voice) "This is terrible. This is so freaking bad." And I put it out there, and I was expecting negative feedback, because there were important things that I knew needed to be changed. But I need positive feedback, because I need positive reinforcement, because I'm a perfectionist. If I don't think there's even a little bit of good in it, then I can't do anything. And Mo came back with so much praise for this script.
She isolated specific things that she enjoyed, and she gave so much. I think it's important when you're giving negative criticism to couch it in positive criticism, but honest positive criticism. Not saying something random. Talk about what you genuinely love so that you can also talk about what needs to be improved. And she brought that to the table.
She's so good at articulating what she enjoys and why, and it really helps. Because then that inspires you to find those places in yourself that have more of that.
Shannon: Yeah, to pull more of that out. And I think that's so important. So, so important. 
This is the second installment of a two-part interview. Read 'Part One' of this conversation here. Sarah, Shannon, and Haley's plays in the Shortwave Theatre Festival can be found on the CFRC Podcast Network and on Spotify and Apple Podcasts. To keep up with Sarah, visit Scribblore Poetry. To keep up with Shannon, visit the First Ditch Collective.