"I just sat there mesmerized": Leslie Arden on Musical Theatre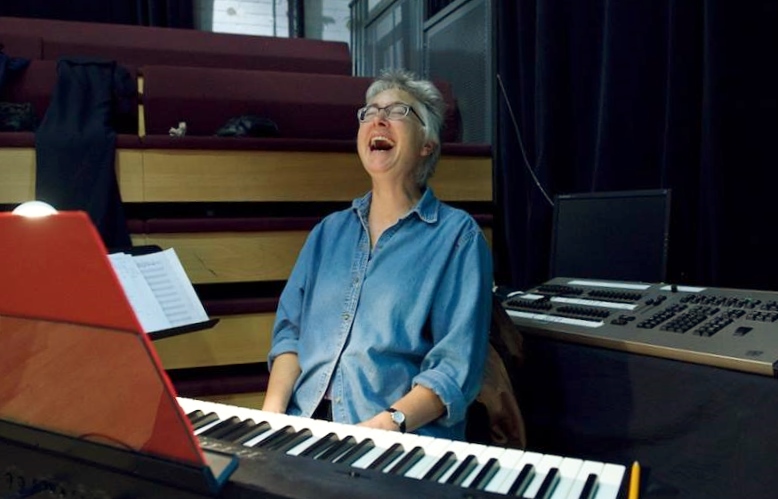 Leslie Arden is a renowned Canadian composer, lyricist, and librettist. In 2019, she was commissioned to write a new musical, The Lancashire Lass, for the DAN School of Drama and Music at Queen's University. First shown in an online preview in 2021, and then in concert in 2022, The Lancashire Lass is having its fully staged debut at this year's Watershed Festival on May 26th and 27th at the Kingston Grand Theatre. 
Recently, Arden managed to slip out of rehearsal for an hour and meet me for coffee and a conversation about musical theatre, reviews, and the upcoming show. We began by talking about The Lancashire Lass, which is set in Britain during the suffragette movement. "Well, that's the background," she told me, "But I'm not that interested in the suffragettes, because I know how that story ends. We got the vote. So for me, there's no suspense." Arden is far more interested in the human side. "It's really a character study of Christabel Pankhurst and Annie Kenney. It's about the dynamic between these two women. It's about this relationship, and how the movement went from one thing to something completely different and people ended up dying."
I was curious about Arden's approach to composing music for shows that are set in the past. How does she play with style to evoke a time period? "I listen to tons and tons of music from that era and that place. And then I put it aside, so it ends up being Ardenesque. But that palette infuses the score. Through the course of [The Lancashire Lass], I start with lots of piano and harp and the upright bass. As the show progresses… the bass player moves to an electric bass, and it becomes a little more anachronistic… I did that with [The House of] Martin Guerre as well. I started writing stuff that I thought sounded 16th century, and it didn't take long for me to realize that, oh, that palette is not big enough for contemporary musical theatre audiences."
Speaking of musical theatre audiences: "Sometimes I run into people who say, 'I hate musicals.' But they've never seen any of the musicals I love, like Floyd Collins and The Light in the Piazza… I did it, too. I thought musicals were 'leave your intellect at the door' kind of entertainment. The moment that changed my mind was the first time I heard [Stephen Sondheim's] A Little Night Music. I thought it was Mozart, like the English of Eine kleine Nachtmusik. And I put it on. I was like, what is this? I picked up the record jacket, and I just sat there mesmerized and listened to the whole thing beginning to end, following along with the lyrics. That was it."
After reminiscing about her time studying with Sondheim in 1990, the conversation turned to the subject of reviews. "I'm totally okay with a critic saying, there's a problem with the show, and here's the problem. What I have problems with is them deciding whose fault it is. When Martin Guerre was first produced, there was a section that I underscored, an epiphany moment… Well, the orchestrator ran out of time, and the director decided that he really didn't want any underscoring there. And so they just didn't do it. The review said, 'How could Leslie Arden have been so obtuse as to have missed Bertrande's epiphany moment completely?' And I'm like, no, I didn't miss it. They just didn't do what I wrote.
"When I came back after the premiere of Martin Guerre in Chicago, I moved from Toronto to ten acres in the country. And I wrote to [Sondheim]… I said, well, Martin Guerre opened, and I don't know what I learned. I read all the reviews, but this review would say the music was stunning and soaring but the lyrics are banal, and this review said the lyrics were wicked clever but the music was ho hum and unhummable—" 
I repeated the phrase, laughing: "Ho hum and unhummable!"
"—Can you tell I studied with Sondheim? So one said—and this is true, this is the quote—the theme was skillfully handled. Another one said the theme was clumsily handled! So I wrote him all this stuff. And I was like, I just don't know what I learned from this experience or what to do with the show. At the end of the letter, I said, 'Well, I have to go turn my compost pile over. My life is so full.' And I sent it off. Before the week was out, I got a response. And he said, 'Of course you know what you learned from the show: Don't read reviews. Go back to your compost pile. It beats theatre any day.'
"I still keep that letter in my desk drawer, and anytime I get a bad review, I take it out. And I still do read reviews, because sometimes there's a gem in it… And I rewrite because I agree with them."
'The Lancashire Lass' by Leslie Arden plays this weekend at Kingston Grand Theatre and more information can be found here.