It's a jukebox musical… It's 'Happy Days'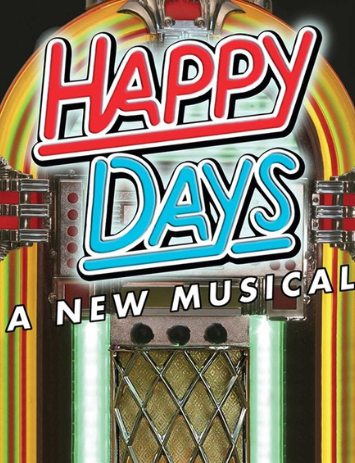 Lovers reacquainted, dance numbers galore, and perhaps some Grease-inspired attributes? It's Happy Days: A New Musical, based off the TV show Happy Days, with book by Garry Marshall, and music and lyrics by Paul Williams. Produced by Blue Canoe, the young folks of this charming show are leaving their hearts on the stage. 
Massimo Recupero starts the show off strong, delivering the first lines of the production with energy ablaze. Playing Richie Cunningham, Recupero never once drops the vigour that makes him so captivating. Seemingly the narrator of the show, yet also a pertinent character to Happy Days' plot, Richie leads an audience through the shenanigans of 1959 high schoolers while they attempt to save Arnold's—the "it" spot for Milwaukee—from being torn down by the city. Of course, these kids can't go unsupervised. Richie's parents, Marion (Katie Mariz) and Howard (Thomas Medeiros), Arnold (Joshua Lopes), the owner of Arnold's, and Leopard (Sophia Broone), the school's principal, are vital characters in the plot's success.
The Fonz (Rowan Engen), a teenage dreamboat and good friend to Richie, is the leading man in this production who has all the pressure of Wisconsin on him as he seems to be the only one who can save Arnold's. Although Fonz has a cool guy aesthetic, Engen isn't boisterous or hard-shelled. He takes a softer approach to Fonz, portraying the character with kindness while maintaining charisma. Playing Fonz's love interest, Pinky Tuscedero, is Celine Gadoury. Together, the couple make for the most Grease-esque characters of them all. The two are leather-clad with Pinky's being, of course, pink (costume design by Meg Gibson) and Fonz even comes equipped with his own motorcycle, which is quite exceptional in size and detail. It's hard to say whether it'd be a large prop or small set piece but hats off to the mastermind behind it. (Set design by Broghan Baker and William McKenzie; props by James Osmond and Zoe D-Elia.)
Gadoury as Pinky is a dynamic force. Her vocal range is outstanding and she adds a smoothness to her character. It seems as though every syllable rolls off the tongue and comes with a wink. Gadoury especially comes to life when vocally matched with Mariz and Lily Foyers as Joanie Cunningham. These three women are standout performers, stealing the show with "What I Dreamed Last Night".
There were some especially fun hidden talents amongst the cast as well. An impressive yoyo-ing Chachi (Oliver Vilela) appeared multiple times and a tap number made its way onstage.
Although Happy Days is fun, lighthearted, and, in this case, has an especially spirited and young cast, there are a few grievances I have with the script. There were jokes that felt outdated and in classic musical fashion, some unnecessary songs for the sake of interesting and/or comical moments. One particular song highlights a character to quite literally sing their praises. The drive for this moment appears to be a dance number involving some colourful plungers as the glory given to this character seems incredibly unearned. Although a fun surprise, I would have loved for Marshall and Williams to give this character greater depth in order to make the song feel more warranted.
Undeniable praise however must be given to the band. They stayed on beat, in time, and left me craving their jukebox jingles.
All in all, this enthusiastic cast and crew deliver on making audiences smile and smirk. Cheers to Blue Canoe and their production of Happy Days!
'Happy Days: A New Musical' is playing at Domino Theatre until Saturday, August 12th. More information can be found here.