The unforgettable Fronge Festival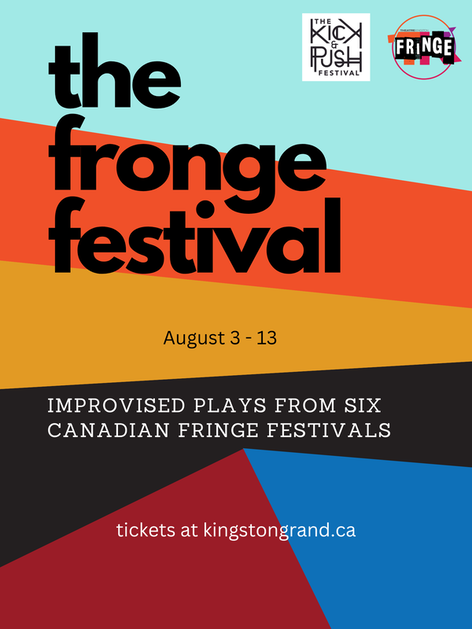 No, it's not a typo—The Fronge Festival is a festival within a festival at TK Fringe, and it's one of the funniest shows I've seen in Kingston this year. 
The concept is simple and absurd: at each performance, the audience is offered a list of Fringe shows from another Canadian city and gets to decide which ones the Fronge's troupe of improvisers will ad lib. Director Kyle Warne performs alongside Victoria Watson Sepejak, Rin Abedi, Aiyana Harvey, Christina Gross, and James Hyett, with on-the-fly lighting design by Nicole Eun-Ju Bell.
Today, The Fronge Festival reached eastward, plucking titles from PEI's Island Fringe Festival. With no prior context, our brave frongers offered their interpretations of The Prick, Rhythm Fusion: Dancers from the Rhythm Fusion Collective, Six Songs About Six Men I've Dated, and Jinny and Jack VS the Thoughts in their Heads. 
The troupe started off sharp with The Prick, inventing a brilliant tale of a puberty-accelerating vaccine gone terribly wrong. The performers had great chemistry through the chaos, and James Hyett made an immediate star of himself with some choice Canadian accents, impeccable timing on geography jokes, and voice cracks that provoked rib-cracking laughter. Rhythm Fusion brought immense commitment to the bit with some deeply unhinged interpretive dance. Things got a little dicey in Six Songs, but the team rallied and finished strong with Jinny and Jack, where a math class romance devolved into a psychomachia that could only be remedied with an homage to Jesus Christ Superstar and the promise of an after-school video game date.
Victoria Watson Sepejak's facial expressions stole the show on multiple occasions, and Aiyana Harvey stood out with some of the cleverest lines. The team's creative use of props—I particularly liked the ping pong ball on a sponge that Hyett presented as a plate of eggs florentine—is a highlight of their resourceful and quick-witted performance.
Toward the middle and end, I felt that the group dynamic was thrown off by Kyle Warne's insertion of his own characters (which were quite similar throughout the show—an evil scientist, a sexist first date, and the Devil) into the sketches. This upstaged the rest of the troupe, and some subtler moments of humour were disrupted. I felt frustrated watching some promising setups undermined (like, come on, obviously the friendly waiter at the café in Six Songs was supposed to be the sixth date). While he's clearly an experienced improviser and had some truly hilarious moments this afternoon, the Fronge could use a little more restraint from its director to allow his fellow actors to shine.
The Fronge Festival piqued my curiosity about the actual plays that are in the Island Fringe, and made me wish that PEI weren't such a far journey from Kingston. Since I don't have time to travel the country, I'll plan to catch the Fronge's side-splitting antics again as they take Kingston's Fringe-goers on a journey through Saskatoon, Calgary, North Bay, Nanaimo, and Guelph this week.
'The Fronge Festival' is playing at the Baby Grand in the TK Fringe Festival until August 13th, 2023. Find more information and tickets here.