Let's talk SPAF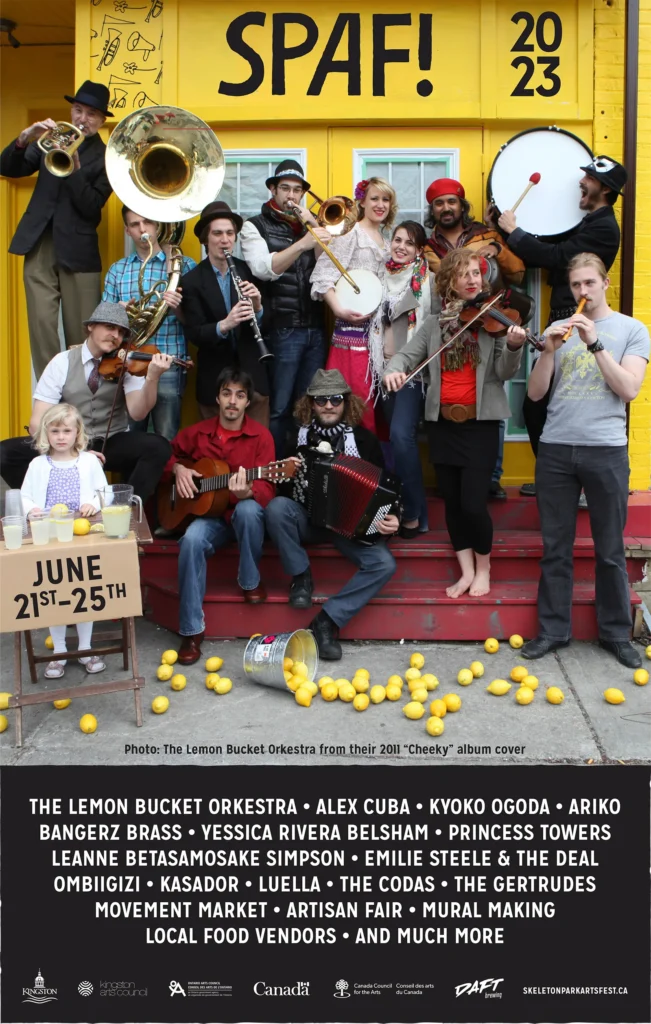 An exceptional union of community and arts is a phrase I would use to describe Skeleton Park Arts Festival (SPAF). The Festival took place in Kingston from Wednesday June 21st to Sunday June 25th with the bulk of the festival happening on Saturday, June 24 and Sunday, June 25 in Skeleton Park (shocking).
I was unfortunately unable to attend the Wednesday to Friday festivities but I did attend on Saturday afternoon and caught Princess Towers performing on the Main Stage. They performed a series of brilliant melodic and original songs. The band consisted of bass, electric, and acoustic guitar players, a drummer, and what looked like a keyboard player. Between tracks, they would discuss and explain the upcoming song while adding some jokes to their fantastic performance. Saturday also hosted a tremendous turnout for the festival and a lively atmosphere. With the Princess Street Promenade occurring just a few blocks south it was an enjoyable day in downtown Kingston for everyone. 
In Skeleton Park, there were countless activities and booths to entertain children and adults alike. There were booths throughout the park from local companies either selling items or promoting their business. Independent individuals also had booths selling beautiful homemade items like purses or wooden carvings. The festival had food vendors such as a Mio Gelato stand so visitors could grab a bite to eat while enjoying the festival. As stated before, there was also a Main Stage where local musical acts performed throughout the day and evening. Some acts that I did not see but would have loved to were The Lemon Bucket Orkestra, Alex Cuba, and The Codas.
For children, since the festival did take place in a park there was a splash pad and playgrounds for further entertainment. The festival also offered face painting and joint activities such as wheelbarrow racing for children to participate in and compete against each other. For my first time at SPAF it seemed like every kid I saw was enjoying the festivities and was having a phenomenal time.
I also attended on Sunday afternoon and saw the ending of Luella's beautiful performance. She performed originals which the audience fully enjoyed—many were standing in front of the stage either singing along or dancing. Her music contained an abundance of R&B/pop tracks which were exceptionally sung and performed by Luella herself and the accompanying musicians. Sunday's festivities mirrored Saturday's with the booths and food vendors along with accompanying activities and the performances.
The Festival succeeded in its purpose of bringing the community together and raising awareness to local art and artists. It was a splendid weekend for everyone including myself to enjoy art, community, and a day out in Kingston. I look forward to next summer's festival and I can't wait to see what new things they have to offer.
Skeleton Park Arts Festival took place in Kingston from June 21, 2023 to June 25, 2023. More information can be found here.