Work that matters: an interview with Sarah Waisvisz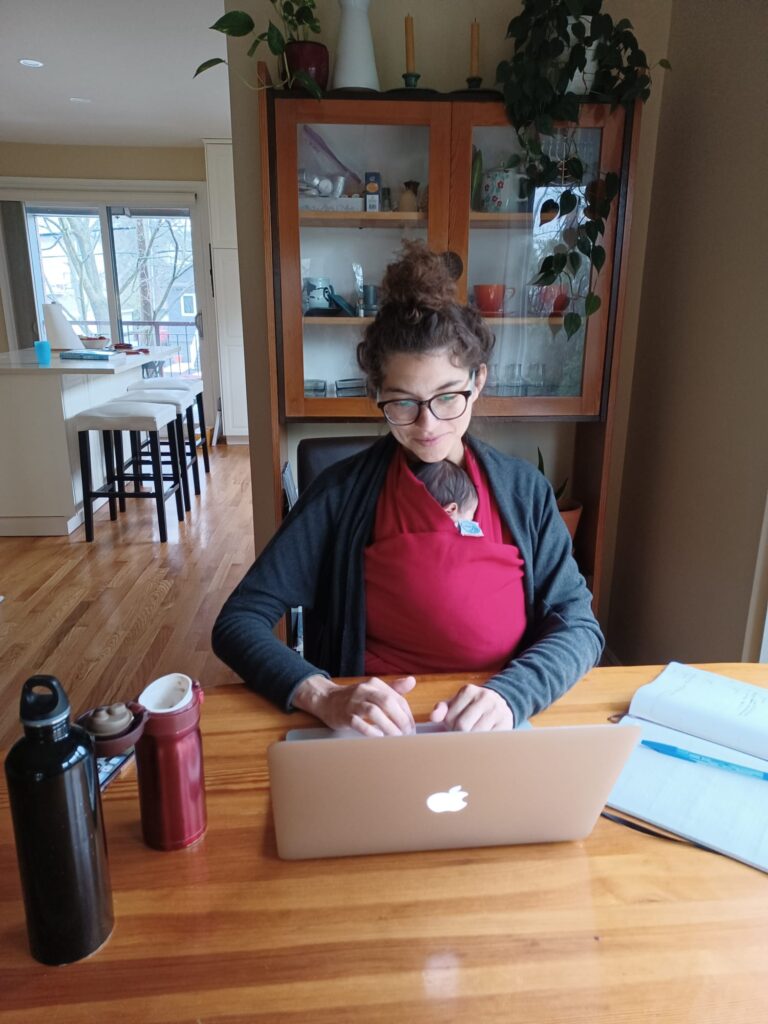 Sarah Waisvisz is a playwright, dramaturge, multi-disciplinary performer, and professor at the Dan School of Drama and Music. Her plays include Monstrous, a solo script about the Afro-Caribbean-diaspora experience and mixed-race identity, and Heartlines, a two-act play about queer-Jewish activists Claude Cahun and Marcel Moore. I reached Waisvisz over Zoom recently for a short but lively conversation. We spoke about her upcoming play Double Helix, her work as a professor, and the adventures of being an artist-scholar-activist as a parent of young children. 
Waisvisz began by describing the twists and turns of writing Double Helix, an Afro-futurist, magical-realist play about the African diaspora. In 2017, she travelled to Guinea, where she spent time in Conakry and Sangbaralla, studying dance for six weeks and writing in her notebook constantly. These notes quickly found their way into her creative work. "I read an excerpt from what would become Double Helix at a festival playwriting event [at Undercurrents]. It was very roughly edited, because I had just come back from Guinea. It was basically like, step off the plane and onto the stage to present this work." 
She continued to work on the script while in residence at the Great Canadian Theatre Company and at the National Arts Centre. "But there was something about it in which I couldn't quite get it off the ground. One—and this is a problem that I think I can address now, but I couldn't then—I didn't have enough people in my circle who were creators of African descent… I needed to not be the sole holder of interest, as well as information. Having to explain all the time why it mattered to tell a story about my mixed-race past, or to tell a story about the African continent… it just felt too hard. That was a problem that I couldn't see my way out of. I didn't know how to pursue it."
To try to foster these connections, Waisvisz reached out to Jillian Keiley at the National Arts Centre, who put her in touch with Donna-Michelle St. Bernard. "Donna-Michelle is a Canadian writer, an emcee, a theatre maker, a director, and a beautiful, beautiful person… I sort of feel like she's my fairy godmother who continues to give me things to do, which are amazing." In 2021, Waisvisz directed a film version of St. Bernard's play Witness Shift for CBC and Obsidian Theatre's 21 Black Futures. 
"Donna-Michelle is one of the only people who's read the script of Double Helix, as it stood at some point in time, and maybe a few iterations. And that was how we started talking. So in a way, it's funny—thanks to work I've done with Donna-Michelle, I think I now know enough collaborators from the African diaspora with whom I could build this project… I want to work with other people for whom a play about celebrating the Black experience would be obviously a fun, good thing to work on. And I don't want to have to explain it… It's not to say that everyone has the same experience. But sometimes there's a common ground, or at least a common conversation that can happen."
Waisvisz's understanding of the intertwining relationship between scholarship, art, and activism has evolved over time, and it's something she's passionate about sharing as a professor of drama and literature. "I want my students to feel like the work they are reading in my classroom is work that matters… and to recognize that the artists or scholars making it do so as part of their own struggle towards something better. The plays on my syllabus, if I'm teaching a drama class—they're not frivolous. Or if I'm teaching the Caribbean novel… those novels aren't frivolous. They're about slavery, or they're about the legacy of trauma, or they're about the Middle Passage, or they're about being Black in a white world… I would like my classroom to be a place where all of these disciplines can speak together towards engaging the students and me into being aware of the world and wanting to be part of making it better."

After hearing Waisvisz talk about mothering and making art on the podcast Next Stages, I wanted to hear more about how parenthood—something I've been yearning for in my own life—has shaped her work lately. "It's changing my relationship to process. I was just writing in my notebook today, 'When will I ever be able to keep a writing practice again?'… I know that it's the thing that most grounds me, and I know that it's helpful for both the art and the scholarship, and the activism… but our society is not set up so that parents can also have a career. This may seem radical, but I think it's not true that we can have it all… but it's still so much part of the culture that we think we can. Or the worst is that we think if we're struggling, we're doing it wrong."
There's a scarcity of time that makes it challenging to keep writing as a parent. "How can I write Double Helix, write the book about Caribbean resistance that I want to write, promote Heartlines so that we get international productions going, and pick up my child by four o'clock? … And at the same time, time is fleeting, and so fast… My littlest one is now walking. I can remember holding him in my arms last year, and he was tiny. How's that possible? I don't have enough time to write my play. So yes, I'm thinking through a lot of these things, and maybe spending too much time thinking and not enough time writing."
I suggested—and maybe it was my own wishful thinking—that when we spend more time thinking, the writing can sometimes come out more fully cooked. "I hope that you're right," said Waisvisz. "I worked really hard to become a parent, and I'm really glad that I am one. And it is all about changing the expectations for things. I think there's a lot of adjustment and flexibility. But also, there's some kind of strange grief about it. You cannot do it the way you used to… I think I'm making peace with that."
More information about Sarah Waisvisz can be found here.