PXR Review Loading…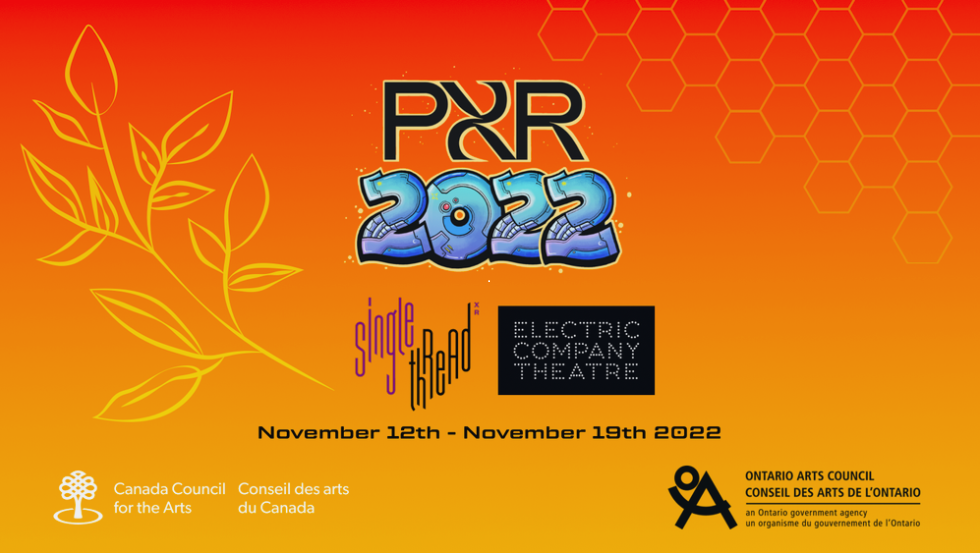 Like many, the idea of an online theatrical experience doesn't excite me like it did pre-pandemic.  The anticipation of being involved with new technology has been dimmed by having to creatively engage with it out of necessity rather than curiosity for the last two years. This was the unfortunate attitude that I held when I went into the PXR (Performance and Augmented, Virtual and Mixed Reality) Conference. Immediately I felt the familiar stress and heat rise in my cheeks as I was confronted with new tech that I had to learn to use on my own, in my home, and in a time crunch. 
What the PXR Conference brings to the table though, is that this work isn't done as an attempt to recreate theatre remotely. Rather, it's an outstretched arm to artists and technicians who are reimagining what it means to create performance.
Described by the Conference on their website:
"The PXR Conference, hosted by Single Thread and Electric Company Theatre, celebrates the evolution of live performance in virtual, augmented and mixed realities. Now in its 3rd year, this national event brings Canadian creators together using a virtual reality platform to share best practices for working within these new media." 

-PXR Conference 2022
While I was only able to attend two events offered at this year's conference, what immediately impressed me was the team of organizers who were able to create and uphold communication and community with their remote audience. They provided how-to guides, an abundance of resources about different virtual reality platforms, and one-on-one assistance to help make the shows as easy to access as possible. But, in PXR's theme of going above and beyond, there was immediate support from the organization to help the audience if needed. Live help was offered in real time during the performances and outreach via Discord was offered before, during and after as well. Being a true newcomer to many of these platforms and tools (I've never tried on a VR headset before), with all my questions and concerns welcomed, I didn't feel alone in my struggle with technology. 
Something I was concerned about was not feeling like there were other audience members in the space—an aspect of seeing live theatre that is so appealing to me. But upon being able to access virtual reality, I was pleasantly surprised to find I was able to feel just as uncomfortable and clumsy as I do in real life. Through only my own fault, I was unsure of myself. It's all too humbling to know that despite all the resources provided by PXR, there will always be a learning curve when I enter a new space. That self consciousness one feels when they're uncertain of their next move is something that seems to be able to transcend into virtual reality too. Great news. 
Something about immersing myself in VR that I didn't consider was the motion sickness that would accompany it (though I'm told it's very common). On my second and third time using the headset, I prepared for the possibility of illness by having light meals, lots of water, and ending my night with ginger tea. It occurred to me that this process of physical preparation was something I would have done for an event taking place in reality. Essentially, I substituted the time I would have spent putting on makeup and driving to a venue with making light meals and having tea. And it was when I was pondering this change in my routine, I realized that as someone with chronic pain, things like being out and active can really drain my energy at an alarming rate. Having the option to still have an immersed experience of performance and art from home sounds like an ideal choice. And while I am not a fan of nausea, I can see its benefits in providing a more accessible experience for some.
The two shows I was able to see were Maamawi: Together Through The Fire co-produced by Peppers Ghost New Media and Performing Arts Collective and O.Dela Arts and Holographic VR Concert presented by Ambiscapes featuring musician Joshua Lucas. Maamawi was a live storytelling-based performance piece that explored the relationship between the individual, colonialism, and the earth. And Holographic VR Concert was more of a traditional concert, given you've attended one on an asteroid before. 
The Joshua Lucas Holographic VR Concert took place in AltspaceVR (which feels like if you stepped into Minecraft or some other first person block-based video game). There was a level of preparation that I had to do—setting up an account in the space and learning how to use the headset, for example. The first thing that struck me was the little bubble above my head saying that my microphone was off. To this I thought, "And thank God." Somewhere in all my preparation I hadn't registered that I would have to talk to the other avatars (read: people) as part of this concert. I immediately felt very aware that I was in my pyjamas, not that literally anyone would know. Once I oriented myself with this idea however, I was pleased to have the ability to speak to the other attendees. It allowed me to regain some of that feeling of what it's like to be part of an audience.
As for the concert itself, the action "onstage" was akin to other shows one might attend in real life. An opening number, a small message about the venue from the artist, a set of original songs, and a closing. Without diving into the details a music critic could distinctly outline, I can say I enjoyed Joshua's show immensely! 
When I took off my headset I found myself wondering if I should be… doing something? What is my next step from here? Do I put my living room all back in place and then go to bed? Do I have a beer and call a friend? What do you do after the VR performance is done? What fills this void where driving home, or going to a bar, or hanging out with friends should be?
No amount of on-demand help could answer these questions.
My experience with Maamawi was entirely different. Maamawi posited two futures, one being humans in harmony with nature and the other, a losing fight against it. Maamawi is a call to action: listen to the word of the earth, to the word of its keepers. Having this performance happen in virtual reality, operating under the PXR Conference, really served the work. Their message and show was able to reach a larger audience without the added expense of touring.
What's amazing about having work like Maamawi happen in VR, is the infinite reach it has to audiences around the world that in-person live performances don't have. Of course, one must consider what the cost of attending these VR experiences is. Is performance like this monetarily accessible to those if the price tag is too high to get the virtual people in the virtual seats? 
For the performance itself, I wish I had the prior knowledge of how to use VR as I think it would have made the content more impactful (after some tech struggles, I was left using my laptop to view; however, this 2D option allows viewing without the purchasing of a VR headset, so monetarily accessible to those already with laptops/computers). I felt discomfort watching—as a white woman, this informed my experience. I know that my actions were what was being called out, and that was part of what made me wish I was more well-versed in VR because I think it would have made those feelings more impactful. What I can say from my limited viewing through my computer screen, is that the story was clear and concise in its delivery. Moreover, the design of the animal avatars was exceptional. Even if the connection made movement jerky or glitchy at times, the glowing animals could have been their own static art pieces. A mixture of neon colours and black detailing, being able to get (virtually) up close and personal with them was one of my favourite parts of viewing the show. 
Both the setting and the performance seemed to be reaching into the future, or some version thereof.
So, what does this mean for Kingston performance creators? Will we all be watching shows like this in 20 years time? I don't know. I'm still inclined to hope not, but I wouldn't be opposed to stepping into this new storytelling machine again because, at the core of it all, that's what creators do. We find new and exciting ways to tell stories to friends, audiences, voyeurs, spectators, and critics. I wouldn't want to be on the side of history that denies our want to do that, in this reality or a virtual one.
The PXR Conference ran from November 12-19, 2022 and more information can be found here.