It's not easy having a good time: 'The Rocky Horror Show'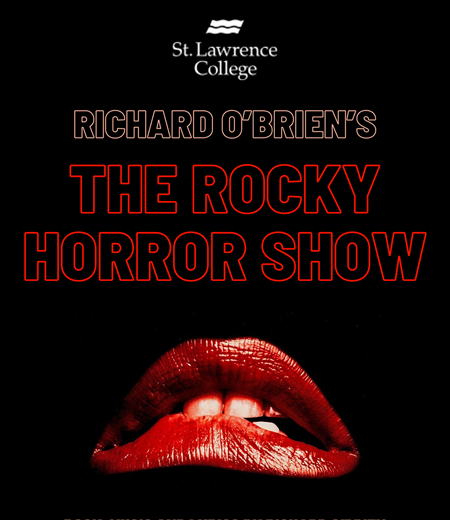 This review mentions sexual violence.
You can tell a show is going to be a riot when the venue posts a list of what not to bring. If you're going to the Brockville Arts Centre this weekend, their website has a long catalogue of forbidden items, including rice, dry toast, toilet paper, open flames, confetti, and supersoakers. If this list sounds familiar, you might already be humming the "Time Warp." If it doesn't, you're in for a wild ride. From April 14th to 16th, St. Lawrence College's Music Theatre Performance program presents The Rocky Horror Show, directed by Jeni Walls. 
A campy homage to sci-fi and horror films from the 1930s to 60s, The Rocky Horror Show premiered in 1973 with book, music, and lyrics by Richard O'Brien. Its film adaptation by O'Brien and Jim Sharman, The Rocky Horror Picture Show (1975), is a cult favourite that continues to be shown at midnight screenings today. The gist of the plot is this: on a dark and stormy night, newly engaged straight-laced couple Brad Majors and Janet Weiss have car trouble and stop at a nearby castle for help. There, they spend a strange orgiastic night with a group of hedonistic weirdos. The lead weirdo, mad scientist Dr. Frank-N-Furter, turns out to be a man-eating alien from the planet Transexual in the galaxy Transylvania.
For decades, Rocky Horror screenings and performances have been a unique space for queer exploration and gender transgression. The show is a parody of everything bigots are afraid LGBTQIA+ people will be: monsters, predators, freaks. The culture of Rocky Horror involves audience members dressing up as characters, bringing props, and engaging with the movie/show by shouting callbacks at the screen/actors.
At SLC's production, the Usherettes—sexy ushers who also sing the opening number—hand out callback scripts and sanctioned props to audience members as they enter the theatre. As my partner and I found our seats, we overheard some older folks behind us reviewing the callback script: "Anytime someone says the name Brad, you yell, 'Asshole.' Anytime someone says the name Janet, you yell, 'Slut.' Got it?" They did. And now, our feature presentation.
From the first notes, it was evident that the band (led by music director Shane O'Regan) was fantastic, but the music seemed loud for a theatre performance. I was hoping it would eventually be adjusted, but it soon became clear that the vocalists would be stuck competing with the volume of the band. There were frequent feedback noises from the mics and it was often difficult to hear the lyrics clearly. Since Rocky Horror is primarily told through song, the storytelling took a hit. From what I could hear during the band's quieter moments, there was some good singing. Powell Nobert's growly, sensual delivery and modern drag sensibility in "Sweet Transvestite" is an absolute pleasure. For the most part, though, I had to rely on visual elements to get the energy of the ensemble.
Luckily, there are plenty of exciting visual elements that carry the show. The set, designed by Joe Pagnan, features two projector screens, giant scaffolding, multiple computer monitors, and a trap door. Alex Amini's costume design is incredible—I particularly loved the silver flapper outfits in the final scene. Ha'Keena Maneso brings killer dancing to the role of Magenta. Phoebe Skinner-Gill gives a sensationally giddy performance as Columbia. The ensemble's costumes and movement are wild, and each background character puts their own spin on the choreography, making them an interesting group to watch.
Dante Toccacelli is funny and lovable as Rocky, the blond-wigged, golden-shorts-clad muscle man brought to life in Frank-N-Furter's lab. Like his shorts, Toccacelli's physical comedy is gold, and he brings balletic grace to Rocky's feats of strength. I especially enjoyed how enthusiastic he makes the character seem—in the movie, I always feel sorry for Rocky, but in this version, he looks like he's having the time of his life.
At the start of Act II, Frank-N-Furter tricks Janet into having sex with him by pretending to be Brad and then goes on to do the same with Brad by pretending to be Janet. In the narrative of the show, it's treated as a point of transformation and sexual liberation for the inexperienced couple, and their sense of violation is played for laughs as part of a wacky erotic nightmare. Brad and Janet both say, "You tricked me—I wouldn't have—I've never—Oh my God—Never!" and Frank-N-Furter purrs, "I know, but it wasn't all bad, was it?" and coaxes them into more sex. This got hearty laughs from last night's Brockville audience—especially the older women—which was off-putting. I wasn't expecting to hear old ladies laugh at sexual violence. Considering the prevalence of misogyny in humour over time and shifting social mores about what constitutes sexual assault though, I guess it's not surprising. The forced seduction trope, which seems unambiguously creepy and dated to me, may resonate differently across generations.
I realise it might sound silly to sing along to a musical about cannibalism and murder and then draw the line at sexual violence. What I will say is this: being eaten by sexy extraterrestrials is not a common occurrence on university campuses or in the theatre community. Sexual violence, on the other hand…well, here we are. What could be a brief moment of cringe in a fifty-year-old show is reinforced by the attitude built into the callbacks: yelling "Slut!" when Janet appears onstage/screen, calling new attendees "virgins," and general juvenile heckling. As a fan of the movie, I've always found this scene jarring, but it sort of slips by and feels like a weird point in the middle of an otherwise enjoyable musical—one that's mostly transgressive in positive ways. 

I know I'm dealing with a complex and rather tender subject, and I'm not here to throw down with Rocky Horror fan culture. If the tension between sexist tropes and queer liberation interests you, I recommend listening to the fun and feisty podcast episode "Feminist Barroom Brawls: Rocky Horror Picture Critique" with Queen's Film & Media faculty Dan Vena and Tamara de Szegheo Lang. And, if you have the capacity for the uglier parts, I also recommend going to see The Rocky Horror Show.
You can find more information on St. Lawrence College's production of 'The Rocky Horror Show' here.
Resources for sexual violence can be found at Sexual Assault Centre Kingston and Telephone Aid Line Kingston.